BY RAVINDER PALL SAINI (IFS, Retired)
(Former Principal Chief Conservator of Forests, West Bengal)
ILLAMBAZAR ( BIRBHUM)
Famous Fossil Wood Parks in India
There are many fossil parks in India like the Indroda Dinosaur and Fossil Park in Gujarat, Ghughua Fossil Park in Madhya Pradesh, Salkhan Fossil Park in Uttar Pradesh, Mandla Fossil Park in Madhya Pradesh , Shivalik Fossil Park in Himachal Pradesh, National Fossil Wood Park (Thiruvakkarai) in Tamil Nadu Fossil Park, Akal wood Fossil Park in Rajasthan.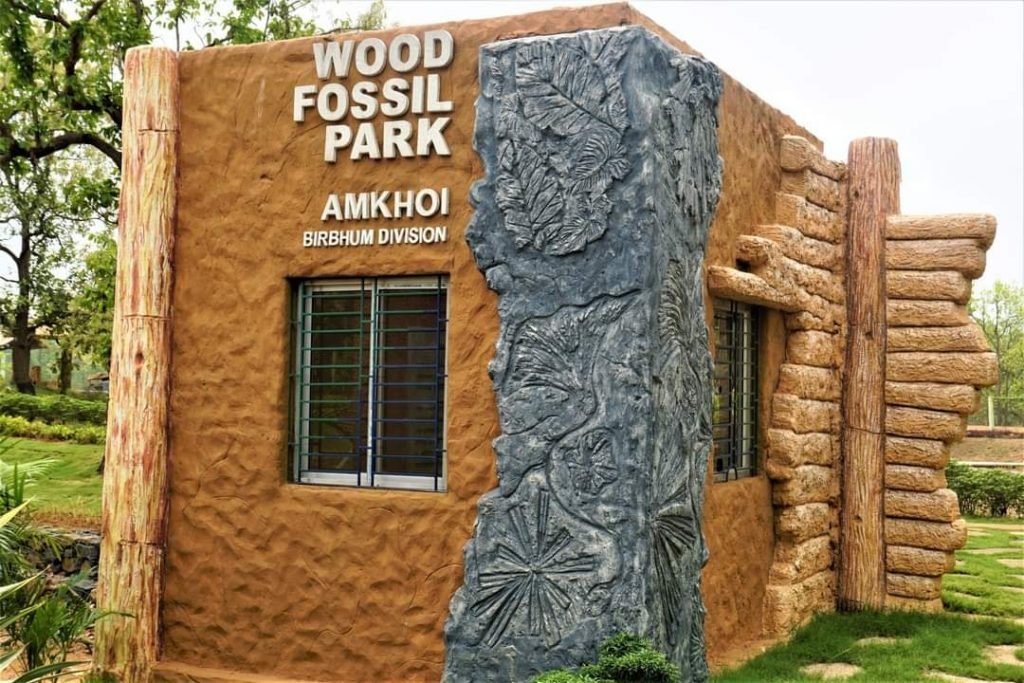 History of Fossil at Amkhoi
West Bengal also boasts of the uniquely landscaped botanical garden and   Amkhoi Fossil Wood  Park nestled among the Illambazar forest in Birbhum District. Wood fossils are defined as woods preserved by natural processes in the earth's crust millions of years back. Fossils are usually found in sedimentary rocks. The essential factors for fossilization are a rapid burial under sediment cover and protection from decay by oxygen and organisms in an anaerobic condition. Fossil fuel such as coal, natural gas and petroleum were formed from plant matter under favourable temperature and pressure. The groundwater, rich in dissolved solids flows through the sediment replacing the original plant material with silica, calcite, pyrite or another inorganic material such as opal. The process is known as per mineralization and the transformed woods are known as Petrified Wood (from the Greek root petro meaning "rock" or "a stone"; literally wood turned into a stone). The result is a fossil of the original woody material that often exhibits preserved details of outer morphology of wood and cellular structures. By studying petrified woods the past depositional environment of sediments, geographical condition, relative age determination, climate and ecology can be determined.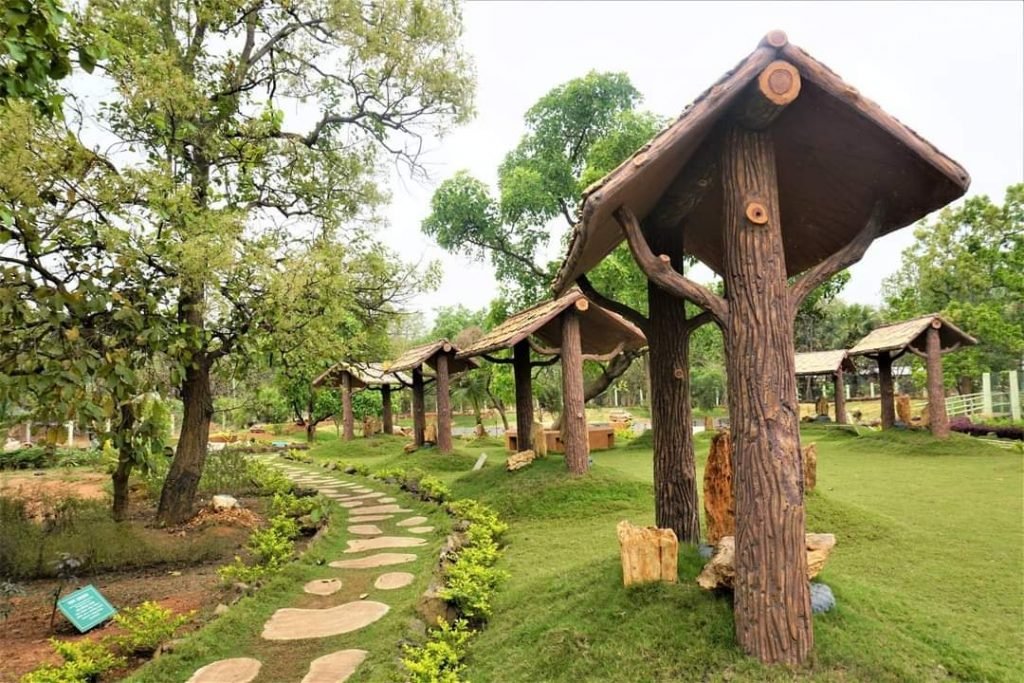 This past forest of this region thrived in the uplands of Rajmahal Hills and Chotanagpur Plateau at the North West of Birbhum. It is presumed that the trees were carried by occasional floods of the river system flowing from North West of the river basin towards South East in Birbhum, Bardhaman, Bankura and Medinipur Districts and deposited under fine sand and clay gradually to transform into wood fossils. The petrified woods are found in two different laterite beds. This is a pioneering effort of West Bengal Forest Department in preserving the priceless fossils woods and to educate people about the natural heritage of West Bengal.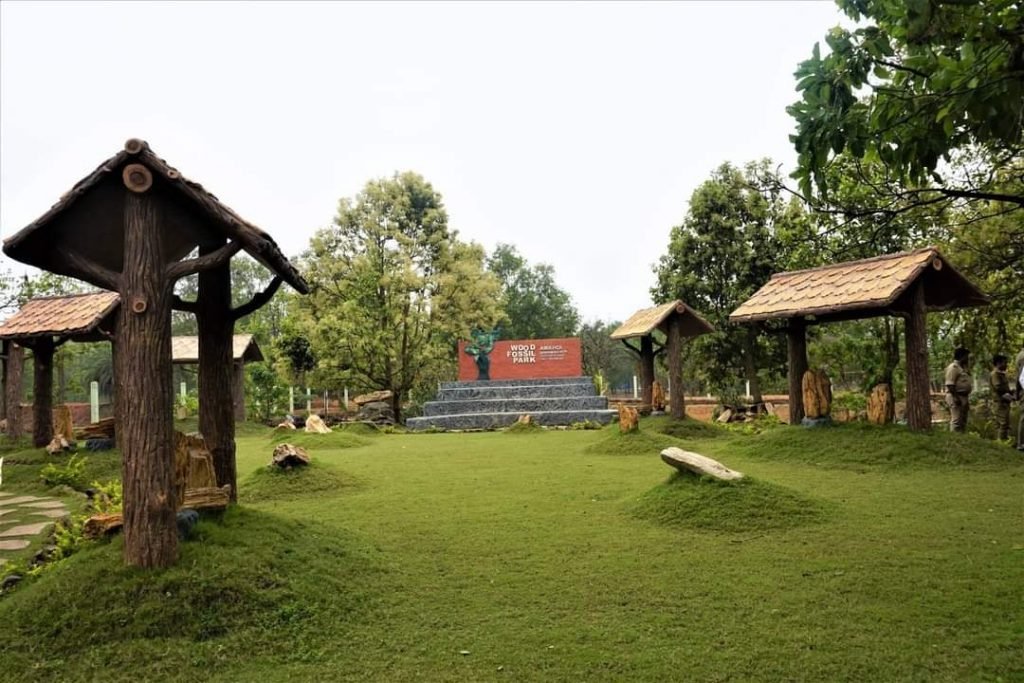 The angiosperm wood fossils which are displayed here were collected during pond digging from Amkhoi village of Illambazar Forest, Birbhum District. These specimens are definite proof of the presence of a vast dry deciduous forest with a few evergreen elements in this area, which prevailed 15 to 20 million years before present (Late Miocene) as per the sample testing  sent by the geologists to the experts of  Birbal Sahni Institute in Lucknow.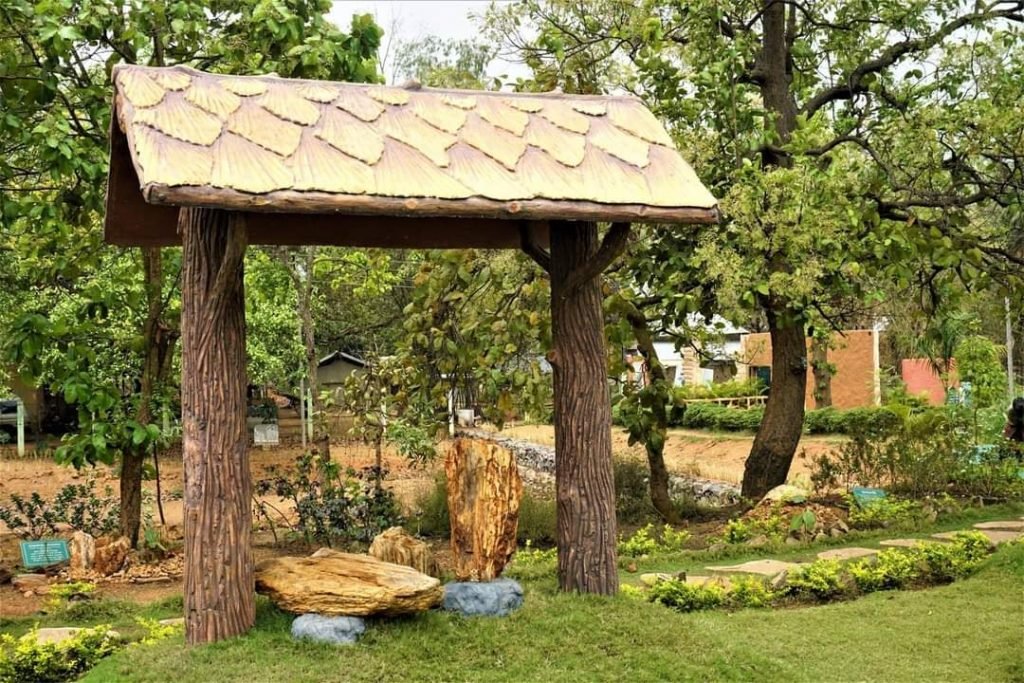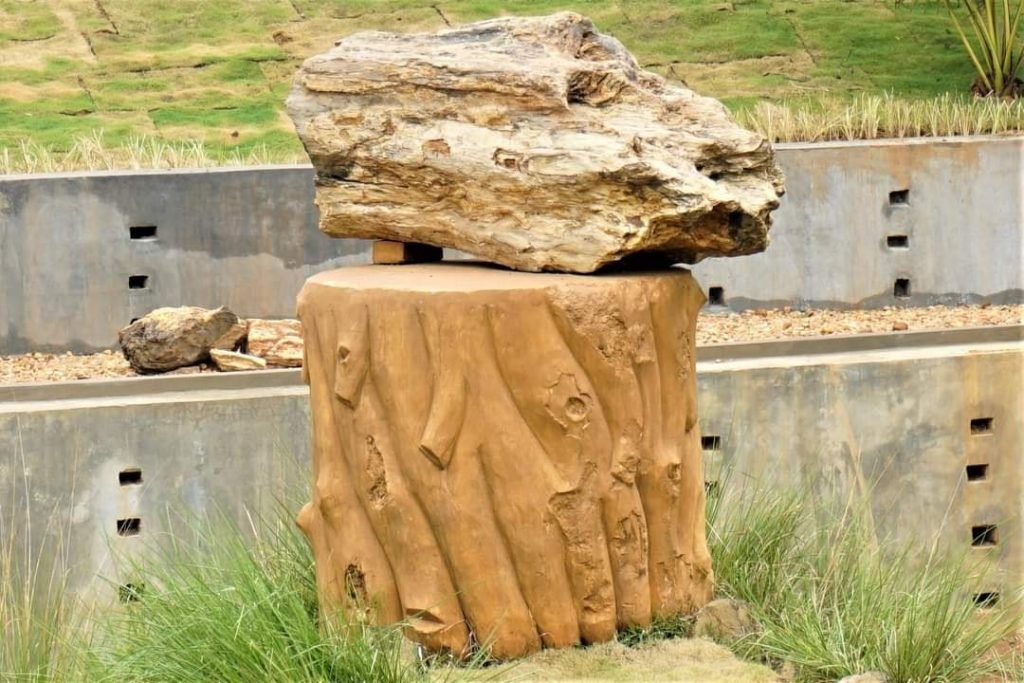 Wood fossils can also be found in different places of Birbhum, Bardhaman, Bankura and Medinipur Districts of West Bengal as well as in Mayurbhanj District in Odisha. Few families and genera of the past forest of south West Bengal were identified by scientists. Dipterocarpaceae, Anacardiaceae, Combretaceae and Leguminosae are some of these. At the present time these families occur in this area. However, some genera are extinct here, but occur in the present day forests of Western Ghats, Myanmar and Malaysia.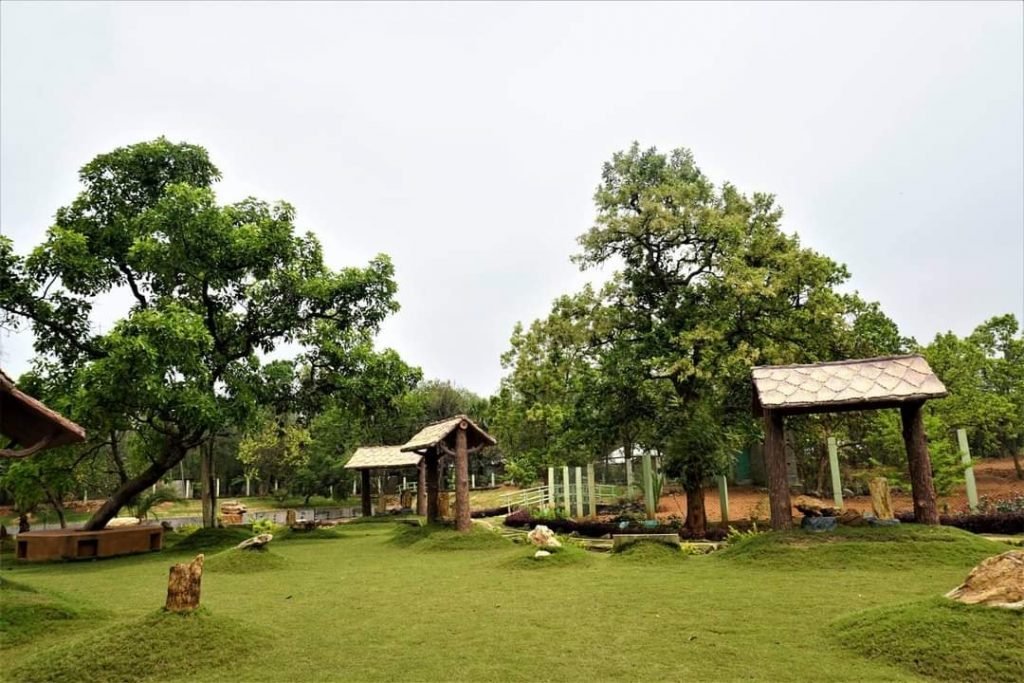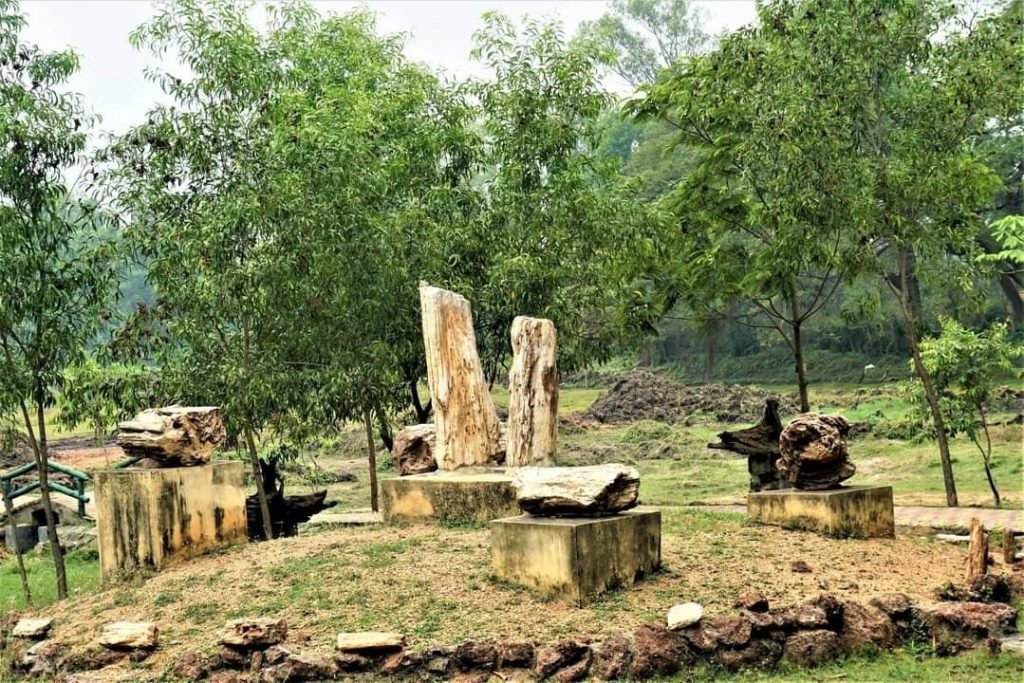 The fossils were found in 2012  while excavating a pond in the Choupahari forests under Illambazar Forest Beat of Birbhum district. On 20 June 2015, the then fisheries minister of West Bengal, Chandranath Singhya had inaugurated the Amkhoi Fossil Wood Park. Picnic, Eco tourism spots, children's park, museum are on the anvil.
Location
Amkhoi Wood Fossil Park is situated about 20 kilometres from Bolpur town in Birbhum.  The park is about 10 hectare in size , and is spread over villages like Ankhoi, Jambuni etc in the forests of Illambazar. The park is maintained by the local woman self help groups. There is no entry fee and it remains open from 10 AM to 4 PM. Car Parking spaces are available outside the park. Washrooms and cafeterias along with retail outlets  run by local women  are also located here.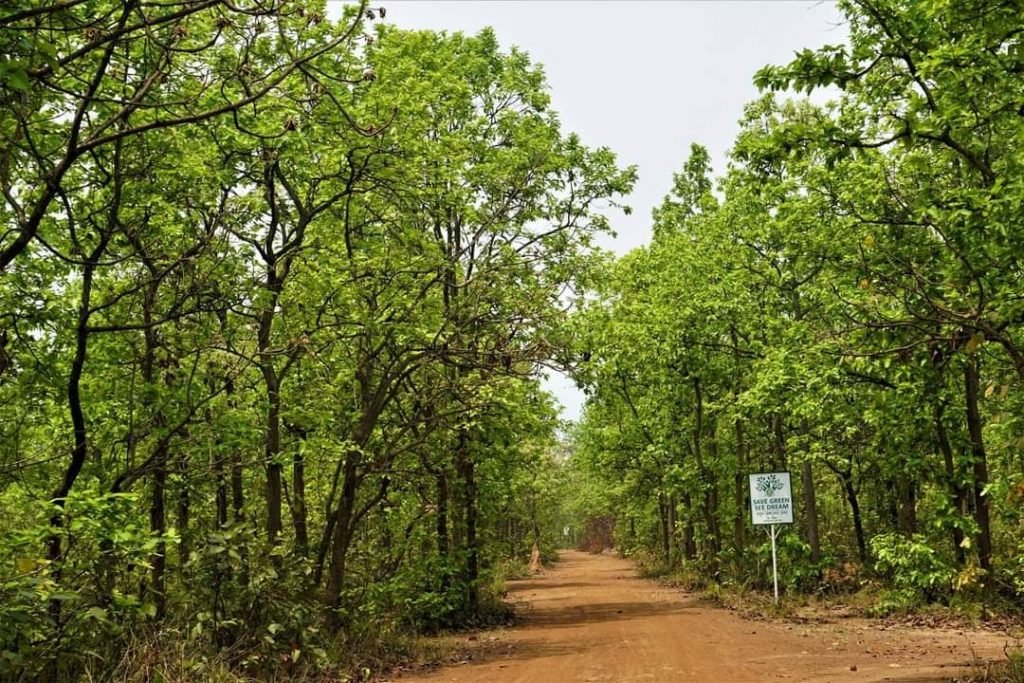 Sightseeing List
Within 20 kilometres area – Hansuli Baank, Tarashankar Bandopadhyay's home, Kopai River, Ballavpur Sanctuary, Shantiniketan, Sonajhuri and Khoai, Suri Church, Kankalitola Shakti Peetha etc.