BY TTT NEWS NETWORK
KOLKATA, 1 MARCH 2023:
The three days Braj Holi Festival begins in Rajasthan from today.
The Braj Holi Festival in Rajasthan will be observed on 1st March in  Deeg, on  2nd March  in  Kaman  and on 3rd March in  Bharatpur.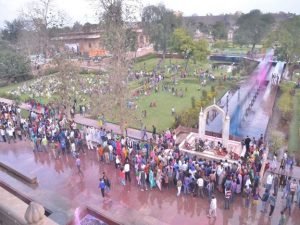 For the first-ever, International Pushkar Holi Festival, a   4-day Holi Festival in Pushkar is an initiative by Rajasthan Tourism Development Corporation (RTDC), in association with the Department of Tourism and District Administration Ajmer will begin from 4 March.
Date: 4th to 7th March 2023, Location: Pushkar.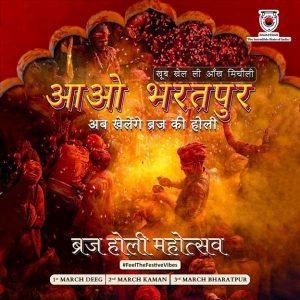 About Braj Holi Festival-
A popular festival of Rajasthan, Braj Holi is celebrated few days ahead of the main Holi festival. While the festival is dedicated to Hindu God Krishna, it also impersonates the eternal love of Radha and Krishna. Locals participate in the festival with full zest and unity and also perform many cultural activities and stage shows including the traditional Rajasthani folk dance.
Men and women are seen dressed in their colourful attires, making the district look vibrant and beautiful. Dance songs are played in the background and people splash colours and coloured water on each other. However, before diving into these exciting activities, people take a holy dip in the Banganga River as it is believed to cleanse sins. Devotees also visit the Radha-Krishna temple early morning which is situated on the bank of the river. At times famous Bollywood musicians and singers are invited to scale up the event and gather more crowd. This two-day festival is all about colours eating, drinking, dancing and making merry.
Dates of the festival: Braj Holi is celebrated for two days which precedes the main holi festival.
Special highlights of the festival:
The main highlight of the festival is the Rasleela dance performed by men and women. The dance form depicts the love story of Radha & Krishna.
Special festival sweets are made and distributed to everyone. People also consume bhang and thandai which is a popular drink.
ACTIVITIES:
There is Sports Competitions, Mehandi and Rangoli Competitions,  Turban tying,  Moustache Competition, musical night, the event can have a grand time playing with dry colours, Milk and Ladoo holi, Flower holi, lathmaar holi,  while dancing to Rajasthani folk music performed by local artists.
https://fb.watch/i-8iAD_HoN/