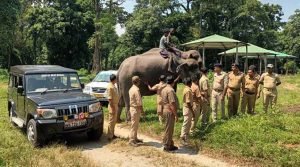 BY AMRAPALI CHAKRABORTY
KOLKATA, 7 SEPTEMBER 2023:
The Jaldapara National Park has donated two trained elephants for elephant safari  to tourists at Gorumara National Park in North Bengal and after a hiatus of two years, elephant ride is all set to begin in Gorumara National Park from 16 September 2023.
At present all forests are closed due to the monsoon season and will reopen from 16 September. Two adult elephants – Jenny and Madhuri has arrived from Jaldapara National Park.
The Travel Agents Association of North Bengal are jubilant with this latest news update as the travel and tourism sector has been requesting the forest department to start elephant ride again at Gorumara national park.
Before the Covid -19 global pandemic broke out two elephants were used for safari in the national park, but was withdrawn after the outbreak and since then has not restarted.
There are 25 residential elephants in Gorumara National park including six calves. Out of which four elephants are at presently undergoing training. The rest 15 elephants are used to keep surveillance of the 80 sq uare kilometers green patches by the forest employees.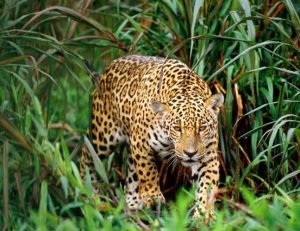 Mr. Dwija Pratim Sen, Divisional Forest Officer (DFO) Wild Life of Gorumara National Park said that  two elephants have arrived and two trained mahouts have also been handed over appointments and from 16 th September Elephant Safari will again begin for the wildlife lover tourists and visitors.
Both 28 year old Jenny and  20 years old Madhuri  used to take tourists to Jaldapara National Park. One of them will be kept at Dhoopjora and the other at Kalipur Tourist Lodge.
Mr. Dibyendu Deb, secretary of Lataguri Resort Owners Welfare Association said that they are excited with this news and hopes that it will give further boost to tourism in North Bengal.
ABOUT:
Fauna:
The  Gorumara National Park  has recorded  about fifty species of mammals, 194 species of birds, 22 species of reptiles, 7 species of turtles, 27 species of fish, and other macro and micro fauna.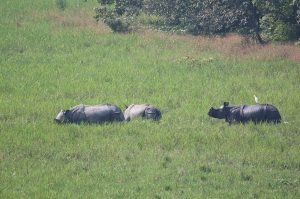 Mammals:
The park is rich in large herbivores including Indian  single horn rhinoceros, gaur, Asian elephant, sloth bear, chital, and sambar deer. Small herbivores include barking deer, hog deer and wild boar. There is a comparative lack of large carnivores, with the only big cat being the leopard. Tigers are, however, occasionally spotted here. It does have numerous small carnivores including various civets, mongooses and small cats. The park has a large resident population of wild boar, but the critically endangered pygmy hog has been reported from the park. It also has numerous rodents, including giant squirrels. The rare hispid hare has also been reported from the park.
Birds:
Birds at the Gorumara National Park include submontane forest species like the scarlet minivet, sunbird, asian paradise flycatchers, spangled drongo, and Indian hornbill. Numerous woodpeckers and pheasants inhabit the park. Peafowls are very common. The park is on the flyway of migratory birds including the rare brahminy duck.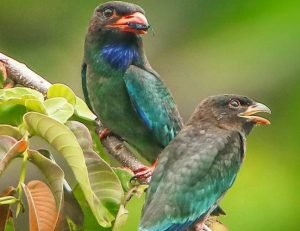 Reptiles and amphibians:
The park is home to a wide variety of snake species, venomous and non-venomous, including  Indian python, and the king cobra.