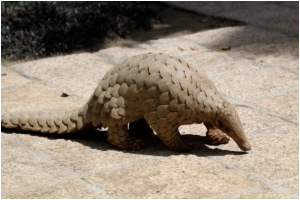 BY DEBAJYOTI CHAKRABORTY
KOLKATA, 3 SEPTEMBER 2023:
The  West Bengal forest department in collaboration  with  West Bengal Zoo Authority has planned for conservation and breeding of the pangolins or the spiny anteaters, who are an endangered species and has planned to conduct a survey and census study at the different forests of Purulia in South Bengal .
The Purulia forests have been known for pangolins, but in recent times the numbers have dwindled mainly due to rampant poaching and habitat destruction and smuggling.
The West Bengal Zoo Authority has come ahead  to finance the project in the forests of Purulia, Jhargram,West Midnapore and Bankura. Trap cameras will also be set up in different parts of  the forests.
The Divisional Forest Officer (DFO) of Kangsabati forest division in Purulia, Mr. Asitabha Chatterjee said that a major study will be conducted for the pangolions which  includes their habitat, food habits, breeding and life span and other important and critical issues.
" Also the data will be collected to know the current pangolin population in the forests of South Bengal. After a project will be undertaken for conservation and breeding of the endangered species,"he said.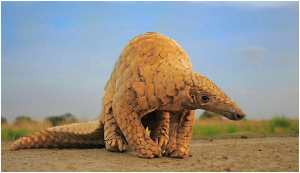 The largest number of Indian pangolins were found in the Ayodhya hills forest range in Purulia. The scientific name of the Indian pangolian is Manis Crassicaudata.
Pangolin, an  endangered species, is only found in the mountains of the Himalayan range and in the Hills of Purulia district. Pangolins have been categorised as endangered species in red ink  according to the IUCN list of the Wild Life Act of India, 1972  and  World Wildlife Fund (WWF). The reason of this species becoming almost extinct is due to the fact that pangolin's meat has been a delicacy for the tribals and the scales are made into rings as a charm to prevent rheumatic fever.
Forest officials calim that  the scaly anteater will  come out of the forest  hiding in search of ants, its primary food. With monsoon arriving, ants are coming out of their hideouts in the ground and the pangolins have been dragged out to find them.
In a 2002 survey it was found that 10 pangolins were residing in the Ayodhya Hills and the last time in 2021 a total of 42 pangolins have been found by researchers in the South Bengal green patches.
Recently, the Rajasthan and the Karnataka state governments have also started conservation and breeding programmee to save the highly endangered the great Indian bustard species in their respective states.
India is home to both Indian Pangolin and Chinese pangolin. Between 2018 and 2022 about 1000 pangolins have been poached in India and smuggled out of the country.
FACTS :
Pangolins, also known as scaly anteaters, are the only known mammals with large keratin scales covering their skin. They are also toothless and nocturnal! When threatened, they curl up into a tight ball.
Of the eight species found worldwide (four each in Asia and Africa), two are found in India: Indian Pangolin Manis crassicaudata and Chinese Pangolin Manis pentadactyla. The Indian Pangolin is found throughout the country south of the Himalayas, excluding the north-eastern region while the Chinese Pangolin ranges through Assam and the eastern Himalayas. However, the current population of these mammals in India is unknown as no systematic studies have been done so far. Both Indian Pangolin and Chinese Pangolin are listed in Schedule I of the Act, therefore hunting, trade or any other form of utilisation of the species or their body parts and derivatives is banned
Adding to their endangered IUCN status is the fact that they are slow breeders and produce only 1-3 offspring in a year!
Female pangolins keep their young in burrows until they are old enough to ride on their mother's tail.
Pangolins can consume up to 20,000 ants per day. That's about 70 million ants per year