BY TTT NEWS NETWORK
KOLKATA, 20 FEBRUARY 2023:
The Eastern Railways has claimed that within one and half month since its launching there has been one hundred percent occupancy of Howrah- New Jalpaiguri- Howrah Vande Bharat Express, which is the first Vande Bharat Express in Eastern India.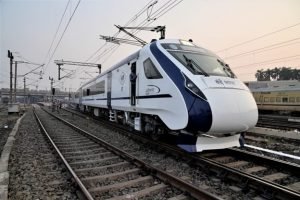 The indigenously built Vande Bharat Express train was introduced four years back as an icon of Atmanirbhar Bharat, said Eastern railway spokesperson Kaushik Mitra.
The first Vande Bharat Express train was introduced between New Delhi & Varanasi on 15 February 2019, which created an era of high speed train movement in Indian Railways. So far, 10 Vande Bharat Express trains are running all over Indian Railways connecting different cities through high speed link.
The 7th Vande Bharat Express train in this series is between Howrah & New Jalpaiguri, which was introduced by Hon'ble Prime Minister on 30 December 2022, for ushering in new era of high speed transport in West Bengal.
The regular service of Howrah – New Jalpaiguri Vande Bharat Express started from 1.1.2023. This train has stoppages at Bolpur (Shantiniketan), Malda Town & Barsoi Jn. stations enroute. This train, acting as a faster means of transport between South Bengal & North Bengal has a very good patronization with average occupancy of 100% till date since beginning of regular run on 1.1.2023.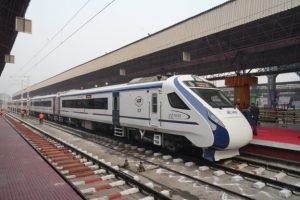 Howrah – New Jalpaiguri Vande Bharat Express (22301 UP) is arriving at Bolpur (Shantiniketan) & Malda Town stations in Eastern Railway jurisdiction at 07:43 a.m. & 10:32 a.m. respectively and in return journey, New Jalpaiguri – Howrah Vande Bharat Express (22302 DN) is arriving at Malda Town & Bolpur (Shantiniketan) stations at 05:50 p.m. & 08:22 p.m. respectively , thus providing a convenient journey time for the passengers at these stations. This fully air-conditioned train serves the passengers 6 days a week (except Wednesday) and has AC Chair car & Executive Class accommodation.
The speed and convenience offered by the Vande Bharat Express, the train has been proving to be one of the preferred modes of train service for rail passengers of Bolpur (Shantiniketan), Malda and surrounding areas in both directions. The train has all world-class train amenities which has been able to meet the aspirations of modern day rail passengers.
Features of Vande Bharat Express –
• Equipped with the modern amenities to make the journey of passengers more convenient and comfortable.
• Enabled with GPS based Passenger Information System and has automatic sliding doors.
• Recliner seats in every coach. Additional feature of rotating seats in executive class.
• Emergency alarm button and emergency talk back units in every coach.
Equipped with CCTV cameras in all coaches for safe and secure travel. In addition, cameras are also provided outside the coaches on platform side and rear view.
• Availability of connection between all coaches with fully sealed gangways,
• Enhanced Fire Safety standards in all electrical cubicles and toilets.
• Modern Bio-Vacuum toilets with touch free amenities.
• Bigger size display units in every coach to disseminate Passenger Information and infotainment.
• Each coach fitted with 4 numbers of emergency windows.
• Equipped with advanced safety of "Kavach" – Automatic Train Protection System.

Benefits of Vande Bharat Express –
• Fast, Safe, comfortable and convenient day journey facility
• First of its kind aesthetically designed and fully AC service
• Enhanced riding comfort to the rail users.
• Runs six days a week except Wednesday.
• Reduced travelling time when compared with other modes of transport.