BY TTT NEWS NETWORK
KOLKATA, 16 FEBRUARY 2023:
The union ministry of environment, forest and climate control (MoEFCC) has given clearance to set up the 3.7 kilometes long ropeway from Kharsali village to Yamunotri Shrine.
The  project will be completed within two years. The Uttarakhand Tourism Department will float a tender for construction of the ropeways in PPP model.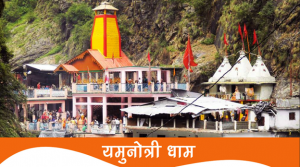 Pilgrims visiting the Yamunotri Shrine used to trek about five kilometres and for the elderly is very difficult. The ropeway will help reducing  the travelling time of the pilgrims from five hours to barely ten minutes.
The villagers of Kharsali have handed over 1.5 hectares to the state government to set up the ropeways project in way back in 2006, but the prokject remained stuck due to lack of environmental clearances.
Mr. Rahul Chaubey, district tourism officer expressed hope that within the next few months the tender will be floated once the Detailed Project Report (DPR) is cleared and the construction work can start from this summer.
About 81 pilgrims have died last year, this ropeway will not only boost the tourism bit will also save the lives of the people, said government officials.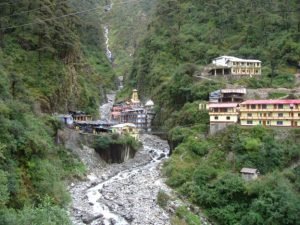 ABOUT –
Yamunotri Temple is situated in the western region of Garhwal Himalayas at an altitude of 3,291 metres (10,797 ft) in Uttarkashi district, Uttarakhand. It's just 129 km from Uttarkashi, the main district headquarters. The temple is dedicated to Goddess Yamuna, and has a black marble idol of the goddess. The Yamunotri temple is a full day's journey from Uttarakhand's main towns — Uttarkashi, Rishikesh, Haridwar or Dehradun. The actual temple is only accessible by a 13 kilometres (8.1 mi) trek from the town of Hanuman Chatti and a 6 kilometres (3.7 mi) walk from Janki Chatti; horses or palanquins are available for rent. The hike from Hanuman Chatti to Yamunotri takes in views of a number of waterfalls. There are two trekking routes from Hanuman Chatti to Yamunotri; the one along the right bank proceeds via the Markandeya Tirth, where the sage Markandeya wrote the Markandeya Purana. The other route–which lies on the left bank of the river–goes via Kharsali, from where Yamunotri is a five or six hours climb.
HISTORY-
Yamunotri temple has a shrine dedicated to the goddess. There is also an 18th-century temple at Gangotri, it was built by garhwal naresh Pratap Shah, it was damaged and re-innovated in the 19th century. The temple has been destroyed twice by snow and floods before being rebuilt. It is located on the backdrop of Bandarpunch. The temple is part of the revered Char Dham pilgrimage circuit.