DEBAJYOTI CHAKRABORTY
KOLKATA, 24 JULY 2022
Zoological Survey of India (ZSI)  study under National Mission for Himalayan Studies  on landscape use and co-occurrence pattern of snow leopard (panthera uncia)and its prey species, siberian ibex and blue sheep  in the fragile ecosystem of Spiti Valley in Himachal Pradesh using trap cameras have been published.
The animal plays a vital role in maintaining the integrity of the high mountain ecosystem by regulating prey populations and maintaining plant community structure. Therefore, it is necessary to understand the role of the snow leopard and its interaction with prey species.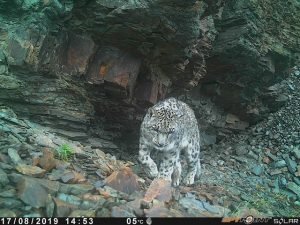 Camera trap image of snow leopard in Spiti valley (Image credit: NMHS)
Snow leopards have a vast but fragmented distribution across the mountainous landscape of central Asia, and their survival depends primarily on wild ungulates. This charismatic species is largely threatened because of the loss of natural prey species, retaliatory killing due to conflict with humans and illegal trade of its fur and bones. Thus, it has been classified as vulnerable by the International Union for Conservation of Nature (IUCN) Red list and provided highest protection as Schedule-I species of the Indian Wildlife (Protection) Act, 1972 (IWPA). Its natural prey base faces competition with domestic livestock in their habitat because of unallocated , and high grazing pressure.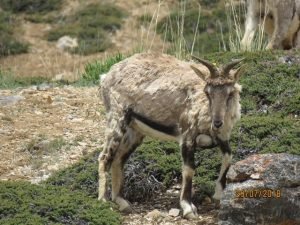 The conservation of key prey species is crucial for the survival of any large predator , as changes in preferred prey abundance could alter its population status. As a wide ranging apex predator , the snow leopard plays a pivotal role in maintaining the ecosystem's health by maintaining biological integrity and is thus considered an indicator of healthy mountains, the study report said.
Picture of the study landscape Spiti valley (Picture credit: Vineet Kumar)
Studies suggest that India has relatively rich natural history records of snow leopards which covers different parts of the Himalayas such as Ladakh, Himachal Pradesh, Uttarakhand, and Sikkim. However, for developing effective conservation and management strategies it is necessary to understand the role of the snow leopard and its interaction with prey species. Further, elucidation of landscape use and co-occurrence of snow leopard and its prey species can be used to assess the differential use of habitat, allowing them to coexist.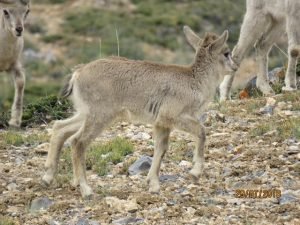 A recent study published by ZSI, Kolkata under National Mission on Himalayan Studies used camera traps and sign survey to evaluate the co-occurrence patterns of snow leopards and its prey species (Siberian ibex and blue sheep) in Spiti Valley of Himachal Pradesh. The first author, Amira Sharief, Project biologist at ZSI informed that this study aimed to examine how the predator uses habitat in presence or absence of its prey species & vice-versa, further we tested how the environmental variables are influencing the distribution of the species in presence or absence of the other species.
The lead author, Dr Lalit Kumar Sharma, Scientist-C & Head, GIS & Wildlife Section of ZSI, Kolkata said that Spiti Valley possesses a good habitat in and outside the protected areas which can support a viable population of both threatened snow leopard and its prey species. The study suggests habitat covariates, such as barren area, grassland, aspect, slope and distance to water are important drivers of habitat use for the snow leopard as well as its prey species.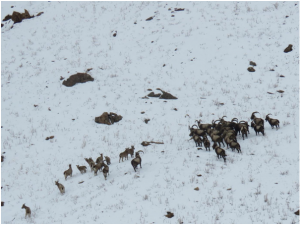 Herd of Ibex in Spiti valley (Picture credit: Vineet Kumar)
Dr Sharma added that snow leopard uses rugged mountainous areas or non-forested areas covering an altitude between 3200m-5200m. He highlighted that the snow leopard detection probability was high if the site was used by its prey species, i.e., ibex and blue sheep. Whereas, in the case of the prey species, the probability of detection was low when the predator (snow leopard) was present and detected. The study also suggested that both species were less likely to detect together than expected if they were independent. Dr Sharma added despite the predation pressure, the differential anti-predation habitat selection and restriction of temporal activities by the prey species when snow leopard is present allows them to co-exist. Therefore, considering the strong link between the habitat used by snow leopard and its prey species, it is imperative to generate quantitative long-term data on predator-prey densities and the population dynamics of its prey species in the landscape.
Ms. Amira added that in higher up mountains, top predators like snow leopards regulate the populations of herbivores such as the blue sheep and Siberian ibex, thereby safeguarding the health of grasslands. A long-term absence of snow leopards could cause trophic cascades as ungulate populations would likely increase, leading to depletion of vegetation cover. Consequently, the loss of this keystone species can lead to regime shifts, alternative ecosystems, and possible losses of ecosystem services which ultimately imbalances the whole ecosystem.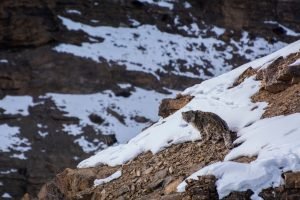 Dr. Dhriti Banerjee, Director, ZSI, Kolkata told The Travel and Tourism Times  that protecting snow leopards may result in a cascade of benefits to the ecosystem as a whole. "Maintenance of areas having potential habitat for top predators in and outside the PA's can serve as a useful tool for conservation and management planning. The knowledge about the relationships among the species will be useful for developing better conservation and management strategies for the long-term viability of snow leopard and its prey species in the landscape of Spiti Valley," said Dr. Dhriti Banerjee.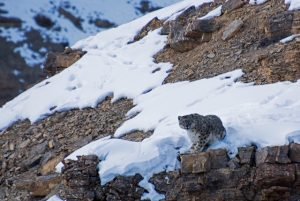 The Spiti Valley with a total area of 7280 square kilometers is a hyper arid cold desert area with altitudes ranging from 3350 m to 6700m in the Indian Trans – Himalayas of the state of Himachal Pradesh. The region is characterised by extreme cold and xeric conditions, with low plant productivity in most parts of the landscape. The entire valley is divided into four wildlife ranges- Pin Valley Wildlife Range, Kibber Wildlife Range, Tabo Wildlife Range and Spiti Valley Wildlife Range.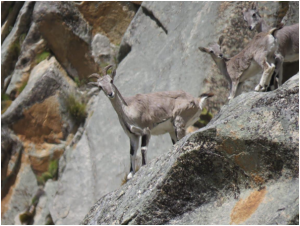 Image of Blue sheep in Spiti valley (Picture credit: Vineet kumar)
The valley has two protected areas – Pin Valley National Park and Kibber Wildlife Sanctuary, which are home to unique and rare species. The most important are snow leopards, blue sheep, ibex, snow cock, red fox, brown bear etc.