BY CHEF DEBDUTTA BANERJEE ( EXECUTIVE CHEF)
ITC FORTUNE PARK PUSHPANJALI, DURGAPUR
Ingredients of Murgh Tikka
For First marination:
   1 kg chicken thigh boneless
   4 tbsp. ginger garlic paste
   8 tsp lemon juice
  1 tsp red chili powder
   1 tbsp. salt
For Second Marination:
  1 cup hung curd
 1 tsp cumin seeds
  1 tsp red chili flakes
  1 tsp black pepper
  4 tbsp. cream
 1 tsp coriander seeds
 1 tbsp. green chilies
  1 1/2 tbsp. fresh coriander
For cooking:
   4 tbsp. mustard oil
   3 tbsp. cooking butter
  for garnishing chat Masala
METHOD OF THE  MURGH TIKKA
Marinate chicken with ginger garlic paste, lemon juice, red chilli powder and salt for minimum 06 hours.
For second marination whisk hung curd, add rest of the ingredients and mix well.
Marinate chicken in second marination for minimum 06 hours.
Skewer the meat and cook in tandoor till cooked.
Key Ingredients: chicken thigh boneless, ginger garlic paste, lemon juice, red chili powder
salt, hung curd, cumin seeds, red chili flakes, black pepper, cream, coriander seeds, green chilies, fresh coriander, mustard oil, cooking butter, chaat Masala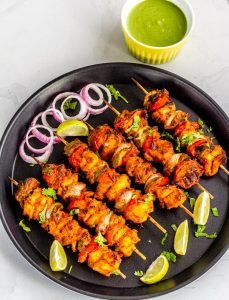 NOTE- Sprinkle chat Masala on top and garnish with Coriander springs and serve with Mint Chutney, lachha onion and lemon