BY DEBAJYOTI CHAKRABORTY
KOLKATA, 8 AUGUST
Rajib Bhatia aka Akhshay Kumar spent 10 glorious minutes ( read moments)  with the family members of the travel agency in Park Street where he worked once upon a time near the Kolkata  Airport today.
Whenever Akhshay Kumar comes to Kolkata he meets with Anil Punjabi, the owner of Ar- Es Travels ,a travel agency office  in Park Street, where he used to work in the mid 1980s.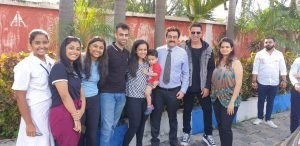 The Travel and Tourism Times made a breaking story on  1 July  about Bollywood's Mr. Khiladi's Bong Connections: A travel agency office where he used to work for about 18 months.
Talking to The Travel and Tourism Times today, Anil Punjabi, Chairman (East) of Travel Agents Federation of India (TAFI) said that the Bollywood actor suddenly called him over phone and told him that he is coming to his office and told him to pick him up.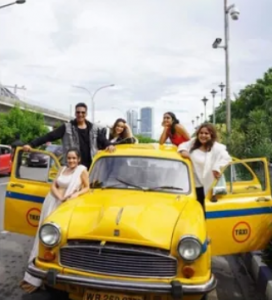 But due to a traffic jam he  got delayed and  could not visit his office at Park Street. Instead Akshay Kumar waited for about 15 minutes for Anil Punjabi near Airport.
Finally, Anil Punjabi and his family met the 54 year old  Akhshay Kumar at VIP Road near Airport and talked with him for about ten minutes. The family took selfies with him.
" Akshay Kumar  along with his team came in his own chartered flight today for promotion of his upcoming  film Raksha Bandhan and was at Delhi Public School (DPS) Megacity in Kolkata. After the event was finished  he called me up. He was in a hurry to return back. We wished him success for the film,"said Anil Punjabi. The Khiladi was also at Cinepolis-  Acropolis Mall in Kolkata.
Tomorrow, Akshay Kumar will be visiting Jaipuria Institute of management in Lucknow with his team for promotion of his upcoming film – Rakhsha Bandhan. Then the next day he will go to Delhi and NCR region.
He was  in Kolkata today  and will go to Lucknow and Delhi with co-stars Sadia Khateeb, Smrithi Srikanth, Deepika Khanna and Sahejmeen Kaur. He has posted a photo in his private jet with his on screen sisters.  He wore a denim sweatshirt with black pants, standing near an aircraft with his team. He and his team are very busy promoting his upcoming film across India. Akhshay Kumar himself said he is very tired with promotional activities.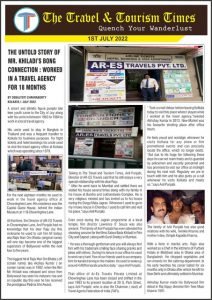 The story of the upcoming film Raksha Bandhan revolves around Akshay Kumar's character, Lala Kedarnath, who wants to get his four sisters married and is relentless in his efforts. Actor Bhumi Pednekar  is paired opposite him in the film Raksha Bandhan.
The film is going to be released on 11 August, on the day of Raksha Bandhan.  Amir Khan's Lal Singh Chadda will also be released as Bollywood's  battle of supremacy  gears up for the first time post covid.
"It's a good week and it has two-three holidays. I think two releases can work easily this week. The COVID pandemic was there for almost two and a half years, so two or three films releasing in a week is inevitable,"  Akshay Kumar has said  in a recent  interview.
Video: @akshaykumar sir and team #RakshaBandhan at DPS School, Kolkata today. pic.twitter.com/ZMAj66L4F5

— Akshay Kumar 24×7 (@Akkistaan) August 8, 2022
Kolkata Akkians at the #RakshaBandhan press conference in Kolkata today .. pic.twitter.com/nmd2qce9Bj

— Sumit Kadel (@SumitkadeI) August 8, 2022