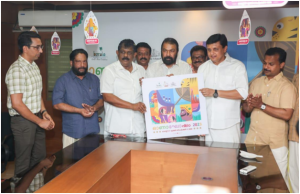 TTT NEWS NETWORK
THIRUVANANTHAPURAM, 21 AUGUST 2023:
Setting the stage for the Onam celebrations plannedonagrand scale by the government, Tourism Minister ,Mr. P A Mohamed Riyas today openedthefestival office set up at the Directorate of Tourism here. Shri Riyas also launched the logo of Onam celebrations 2023 on the occasion.
The Onam celebrations organised by the state Tourism Department will get underwayonAugust 27, bringing alive the best of Kerala's classical, folk and ethnic art andperformingtraditions in multiple stages across the state.

Minister for General Education and Labour ,Mr. V Sivankutty; Transport Minister, Mr. Antony Raju; Minister for Food and Civil Supplies, Mr. G R Anil; MLAs Shri VKPrasanth, Mr. I B Sathish, Mr. V Joy, and Mr. G Stephen; Kerala Tourism Secretary, Mr. K Biju; andTourism Director, Mr. P B Nooh were present on the occasion. Sharing the traditional spirit of Onam, Ministers laid flowers on the athapookalam(floral decoration) laid out at the entrance of the Directorate of Tourism.
They also had a go at the swing set up at the venue and relished the payasam, specially prepared for the occasion. The festival office will coordinate the cultural programmes planned in state capital and other centres across the districts. Last week, Mr. Riyas had launched the website of the online Global Pookalamcontest, luringparticipants from around the world to join the contest and win attractive prices.
( All pictures – Kerala Tourism)