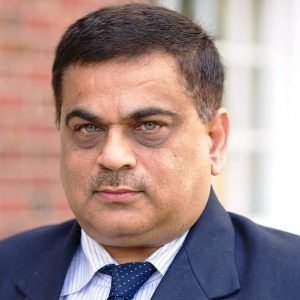 BY DR.RAVINDER PALL SAINI
( IFS, RETIRED)
MEMBER (BOARD OF ADMINISTRATION)
CENTRAL FOREST UNIVERSITY
DEHRADUN
(*A popular birding destination
*Picnic site close to Dehradun
*Offers Water Adventure Experiences)
DEHRADUN, 16 NOVEMBER 2022
Asan Barrage Bird Sanctuary :
Assan Barrage Bird Sanctuary  or Asan Conservation Reserve was established in the year 1967 as a small man-made  stunning blue – green wetland at the convergence point of  two perennial rivers, Yamuna and Asan in Dehradun district . Since it is near to Dhalipur power house, it is also known as Dhalipur Lake.

One of the region's most popular bird-watching sites, nature-lovers and birding enthusiasts can be seen training their lenses on winged beauties here. This serene natural expanse sits at the picturesque junction of the Yamuna and Asan rivers. India's first conservation reserve, established in 2005, it recently became Uttarakhand's first Ramsar site, making it a 'Wetland of International Importance'. Asan is also listed as an Important Bird Area (BNHS and BirdLife International) and is popular for sightings of native and migratory birds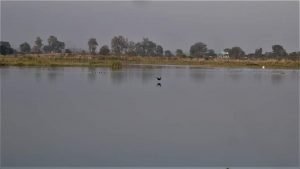 The area is full of lush green trees and a calm 287.5 m long water body which attracts a humongous population of local as well as migratory birds. The area covered by this avian haven is just four sq. kms, but the profusion of foliage ensures that birds are not disturbed by bird-watching enthusiasts. The humbling thing is that many of the birds seen here are globally threatened and are listed in the extremely endangered IUCN (International Union for Conservation of Nature) Red Data book.

Location:
It is in Dehradun on the highway which runs from Chandigarh to Shimla created in the year 1967. The Asan Reservoir is a small man-made wetland of ca. 4 sq. km area, located 40 km west of Dehradun, to the west of Dehradun valley on the Dehradun – Paonta Road. The barrage is 287.5 m long, the riverbed being 389.4 m above sea level, with minimum and maximum water levels respectively at 402.4 m and 403.3 m.

Main Attractions:
This place has become a paradise for bird watchers. Close to 53 species of water birds make this beautiful barrage their habitat. The migratory birds which make this reservoir their habitat for some time, are a pleasant sight to sore eyes. The population of birds consists of Pintail (Anas acuta), Red Crested Pochard (Netta rufina), Ruddy Shelduck (Tadorna ferruginea), Common Pochard (Aythya ferina), Mallard (Anas platyrhynchos), Coot (Fulica atra), Eurasian Wigeon (Anas Penelope), Gadwall (Anas strepera), Common Teal (Anas crecca), Shoveller (Anas smithii), Egrets (Ardea alba), Herons (Ardea herodias), Tufted Duck (Aythya fuligula) and Lapwing (Vanellus vanellus). All these birds are rarely seen anywhere else in India and basically belong to foreign lands.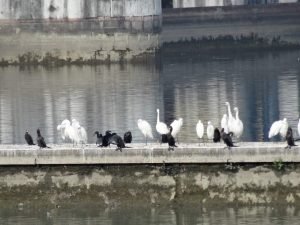 FLORA –
The Asan Barrage reservoir serves as a breeding site for several aquatic plants, including hornwort, elephant grass, water hyacinth, and fennel pondweed. You will witness some gorgeous bushes around the area, such as Prickly chaff flower, Touch-me-not, Morning glory, False Daisy, Cocklebur, Knotweed, shy-leaf, west Indian lantana, Stonebreaker, Heartleaf, and miniature beefsteak.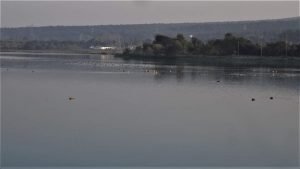 A field of crops surrounds the southern side of the reservoir. As you head south, you'll see the Shivalik range's mixed forest, which consists of a beautiful tall thicket of trees that include Sal, Dhaura, Sheesham, Indian Ash tree, and the Red Silk Cotton Tree.
TIME:
Asan barrage in Dehradun is an ideal place for bird lovers, ornithologists and and nature lovers alike, who can travel easily here and see thousands of birds species who have travelled many miles to reach this wetland.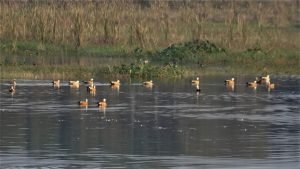 The Asan barrage serves as a winter passage halt for trans Himalayan migratory birds.
These birds are spotted here on their way to southern India ( October to November)  and again on their way back (late February – March). By the end of October Asan witnesses the arrival  of migrants from the pale arctic region.
Winter is the most exciting season for watching migratory birds, but for local migratory birds birdwatchers can visit between early May to the end of September. While it's an all-year-round destination, the best season for bird watching  is from October to April.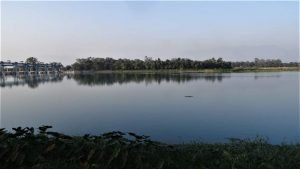 The best bird-watching season here is winter, from November to February. There are demarcated routes inside the reserve for tourists and nature-lovers. Eco-huts have also been set up in the area.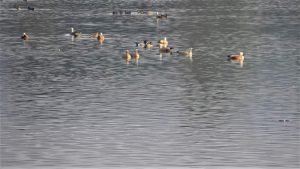 ACTIVITIES-
It also gives the privilege of boating, kayaking, canoeing, rowing, and water skiing to the travelers.
WEATHER AND CLIMATE :
Summers – max 38 degree C, minimum 14 degree C.
Winters – maximum 21 degree centigrade, minimum 2 degree C.
Average rainfall – 250 cm
Monsoon : June to September.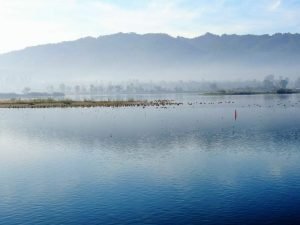 HOW TO REACH
FLIGHT – Jolly Grant Airport of Dehradun is the nearest airport located about 70 km away.
Train – Dehradun railway station is 40 km away and Dehradun and Haridwar are well connected from most Indian cities by rail.
Road – Asan Barrage is well connected by motorable roads to nearest destinations such as Haridwar, Rishikesh and Dehradun from New Delhi ISBT Kashmiri Gate.Buses are easily available from nearby cities. Delhi (280 km) and Haridwar (90km).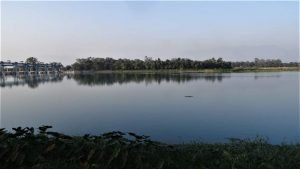 The  Asan barrage is open from 9:00 AM to 5:00 PM. There is no charge to enter this barrage..