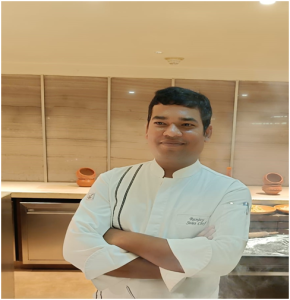 CHEF RANJAY TIWARI,
CHEF de CUISINE,
The WESTIN, RAJARHAT
INGREDIENTS :
For the Marinade:
– 500 grams boneless fish fillets (such as mahi-mahi or any firm white fish)
– 1/2 cup thick yogurt
– 1 tablespoon ajwain seeds (carom seeds)
– 1 tablespoon ginger-garlic paste
– 1 teaspoon red chili powder
– 1/2 teaspoon turmeric powder
– 1 teaspoon garam masala
– 2 tablespoons lemon juice
– Salt to taste
– 2 tablespoons vegetable oil
For Skewers:
– Wooden or metal skewers, soaked in water if using wooden skewers
For Garnish:
– Lemon wedges
– Fresh cilantro leaves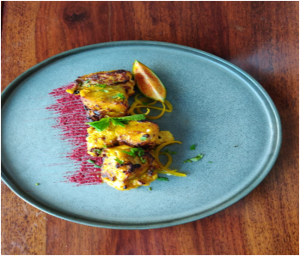 METHOD :
Cut the fish fillets into bite-sized pieces and set them aside.
In a mixing bowl, combine the yogurt, ginger-garlic paste, red chili powder, turmeric powder, garam masala, lemon juice, salt, and vegetable oil. Mix well to make the marinade.
Add the ajwain seeds to the marinade and mix them in.
Add the fish pieces to the marinade and gently coat them with the mixture. Cover the bowl and let the fish marinate in the refrigerator for at least 30 minutes to an hour. The longer you marinate, the more flavorful the tikka will be.
Preheat your grill to medium-high heat.
Thread the marinated fish pieces onto the skewers.
Brush the grill grates with a little oil to prevent sticking.
Place the fish skewers on the grill and cook for about 3-4 minutes on each side or until the fish is cooked through and has grill marks. Be gentle when flipping to avoid breaking the fish pieces.
Once the fish is cooked and has a nice char, remove the skewers from the grill.
Garnish the Ajwaini Mahi Tikka with lemon wedges and fresh cilantro leaves.