BY TTT NEWS NETWORK
NEW DELHI, 2 FEBRUARY 2023
Taking a giant leap forward towards completely reducing its carbon footprint, the Indian Railways is all set to "Go Green", on its heritage routes from December this year.
 The first such train in the country will roll out in the historic Kalka – Shimla route. The hydrogen powered trains will be called Vande Metro.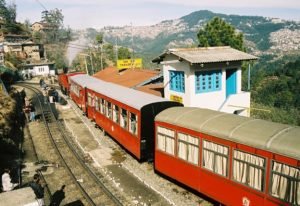 Union minister of Railways, Ashwini  Vaishnaw has announced that come December 2023, the Indian Railways will gradually roll out hydrogen trains on the heritage railway routes.
" At present the locomotives which runs in these narrow gauge lines are fuelled by diesel. Which means that all the heritage routes in the country will be completely green," said Mr. Ashwini Vaishnaw.
The heritage routes of the Indian Railways are – Darjeeling Himalayan Railway, Nilgiri Mountain Railway, Kalka Shimla Railway, Matheran Hill Railway, Kangra Valley, Bilmora Waghai and Marwar – Devgarh Madriya.
On 2 December 1999, UNESCO declared the Darjeeling Himalayan Railways (DHR) in West Bengal   a World Heritage Site. It also hosts  the highest railway station in India – Ghoom. Later few other stations in the country were added to the list.
 The first prototype will be ready by May- June and is currently developed at a workshop in Northern Railway. The trial run will take place in the Sonipat- Jind section in haryana, railway sources said.
The current set of the locomotives have been manufactured in the 1950s and in the 1960s and will be replaced by the Make in India and indigenously designed new age hydrogen fueled locomotives.
Germany has launched the world's first fleet of hydrogen-powered passenger trains sucessfully  in the state of Lower Saxony, which has a maximum speed of upto 140 kilometres per hour. The Coradia iLint is the world's first passenger train powered by a hydrogen fuel cell, which produces electrical power for traction.
 In Asia, China has also launched its first hydrogen fueled locomotives and the highest speed is 160 kilometres per hour in December last year.
 While the German hydrogen powered train  can run 1000 kilometres with a single loaded tank, the Chinese version can run upto  600 kilometres.
Hydrogen powered fuel is slowly becoming popular  globally as a sustaianable  green transport alternative.
 The price of green hydrogen at present in the country is Rs.492 per kilogram, which means that the operating cost will be 27 percent higher than the existing diesel powered locomotives.
Hydrogen fuel powered green locomotives  are set to be the future of world transport sector. The hydrogen fuel  market, though at present is in a nascent stage , is expected to be valued at $34.7 billion by 2030 and  is estimated to grow at a CAGR of 10.4% from 2031-2040 to reach $87.3 billion by 2040.