By DEBAJYOTI CHAKRABORTY
KOLKATA, 6 JULY 2022
World's largest carrier , Indian Railways has planned to redevelop and transform Kolkata, Asansol, Raniganj, Jasidih, Bandel, Bhagalpur, Bolpur, Sultanganj, Berhampore Court, Howrah into world class transit hubs like airports.
Prime Minister Narendra Modi has already dedicated to the nation mega three state of the art, ultra modern airport like world class railway stations –  Sir.M.Visvesvaraya Terminal in Bengaluru, set up at a cost of Rs.314  Crores,  Habibganj in Bhopal of  Madhya Pradesh, later christened as Rani Kamlapati Railway Station , set up at a cost of Rs. 450 crores and GandhiNagar  Capital Railway Station , set up at a cost of Rs.780 crores.
The Habibganj railway Station is modelled on Heidelberg railway station in Germany. For the first time in the country a five star hotel has been set upon the railway tracks at GandhiNagar Capital railway Station. The 318 room luxury hotel is run by the Leela Group of Hotels.
Talking to The Travel and Tourism Times today, Parmanand Sharma, Divisional Railway Manager of Asansol Division of Eastern Railways said that three stations under the division will be redeveloped. Which includes Asansol, Raniganj and Jasidih. He  added that the groundwork of Asansol station redevelopment has been completed already.
Already the Detail Project Report (DPR) of redevelopment of Asansol, Bhagalpur and Kolkata stations has been submitted.
The DPR of the rest of the stations – Bolpur, Raniganj, Howrah, Bandel, Berhampore Court, Sultanganj, Bhagalpur, Jasidih will be prepared shortly, railway sources said.
" The zonal railways will supervise the works along with the divisions and the projects are scheduled to be completed within two years after commencement of redevelopment work,"said Ashish Bharadwaj, Chief Engineer of Eastern Railways.
The Indian Railways have a total number of 7325 stations with a running track of 99,335 kilometres.More than 20,000 trains and 7000 freight trains operate in the country at present.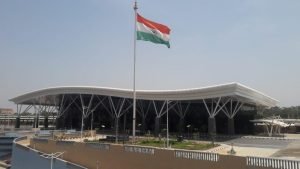 Indian Railways have taken a mega project to redevelop major railway stations in the country into world class transit hubs.
Work of redeveloping the stations like Ayodhya, Bijwasan (Delhi), Gomtinagar (Lucknow), Delhi Safdurjung and Ajni (Nagpur) into world class transit hubs like airports has also started.
Projects are also set up under the hybrid  build operate transfer model of Public Private Partnership (PPP).
With other mega projects like dedicated freight corridor,  high speed bullet train etc are also on the anvil in the next few years, it seems that the railways which have the world's fourth largest network.
Besides seamless traffic- both inbound and outbound , these stations will have world class passenger amenities like food court, escalators, refreshment rooms, shops, parking, lighting, decorations, greenery
etc.
Jasidih station, which is under Asansol Division, is situated in the state of Jharkhand and is a popular destination of pilgrims travelling to Baba Baidyanath Dham Temple in Deoghar.
Under the  Southern Railways-  Madurai, Rameswaram and Kanyakumari in Tamil Nadu; Ernakulam and Kollam in Kerala, and Puducherry stations have been identified for the  redevelopment of Indian Railways.
Other prominent stations  which will be redeveloped includes – Tirupati and Nellore (South Central Railway), Surat in Western Railway,  Jaipur and Udaipur in North Western Railway; Pragyaraj and Kanpur in North Central Railway, and Ghaziabad and Lucknow in Northern Railway etc.
The Railway Board has plans to complete all station redevelopment projects within the scheduled period.