BY TTT NEWS NETWORK
GANGTOK, 5 FEBRUARY 2023
Sikkim is all set to celebrate the Losar Festival from 21 February to 27 February. The main festival is held at Rumtek Monastery and Phodong Monastery.
The Losar Festival is the celebration of the Tibetain New Year. It falls on the first day of the Tibetian Lunar Calendar. The first day is known as Lama Losar. Though the traditional festival lasts upto 15 days.
 Besides, capital Gangtok the festival is also held at Pelling, Lachen and Yuksom.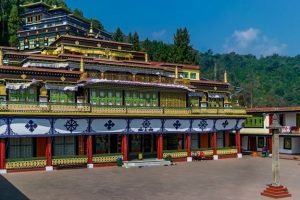 The festival starts at the monastery with the Cham dance or the local Lama dance. The Yak dance is performed to honour the Yak.
Flowers are an essential part of the festival and devotees greet each other witrh flowers. Sikkim is dependent on agriculture and tourism. Thus the people of Sikkim value both tourism and agriculture.
 Tourists from all around the globe visit the North eastern state of  Sikkim to witness  its breathtaking landscapes, dazzling waterfalls, alpine forests, and glorious Kanchenjunga Peak. There are  also many  ancient Buddhist monasteries in Sikkim for spiritual lovers.
 As part of the festival local people  prepare Tsampa buckets, a blend of roasted barley flour and butter.
February is the peak tourist season in Sikkim and a large number of visitors arrive in this north eastern state to enjoy this colourful festival and rich culture.
Tourists  go to other hostpots as well after watching this festival.