BY TTT NEWS NETWORK
KOLKATA, 25 DECEMBER 2022
World-renowned sand artist and sculptor , Padma Bhusan  Sudarshan Pattnaik created a sand sculpture of Santa Claus at Gopalpur beach in Ganjam district of Odisha on Christmas 2022 on Saturday.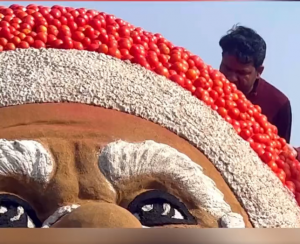 Sudarshan Pattnaik wrote "Merry Christmas" with sand art. Patnaik created the 27 feet tall and 60 feet wide Santa Claus using 1500 kg of tomatoes. It was unveiled by senior officials on Saturday night. Sudarshan Pattnaik explained that 27 feet height was built with sand and tomatoes and 15 disciples contributed. It is said that it is being sent to the Guinness Book of Records.
During the Christmas celebrations on  2021, Sudarshan  Pattnaik created a 50 feet tall, 28 feet wide sand sculpture of Santa Claus at Puri beach with  about  5400 red roses and other flowers.
"#TomatoSanta World's biggest Tomato with Sand #SantaClause installation of 1.5 tons of Tamato at Gopalpur beach in Odisha , India. This sculpture is 27ft high, 60 ft wide. My students joined hand with me to complete the sculpture. #MerryChristmas2022," Sudarshan Pattnaik wrote in his official twitter page.
#TomatoSanta World's biggest Tomato with Sand #SantaClause installation of 1.5 tons of Tamato at Gopalpur beach in Odisha , India. This sculpture is 27ft high, 60 ft wide. My students joined hand with me to complete the sculpture. #MerryChristmas2022 pic.twitter.com/s1cOeYQzEC

— Sudarsan Pattnaik (@sudarsansand) December 25, 2022