BY TTT NEWS NETWORK
KOLKATA, 16 JANUARY 2023
IndiaOne Air will start flight services from the steel city of Jamshedpur in Jharkhand to City of Joy, Kolkata from 31 January. Jamshedpur is one of the largest industrial hubs and most populous city in Jharkhand and is home to Tata Steel, Tata Motors, Tata Power, Tata Cummins, XLRI etc. The city was also ranked as the cleanest city in India in 2020.
It will also start Jamshedpur to Bhubaneswar flight services from 31 January.
Sources said that it will take one hour and five minutes for the flight to reach Kolkata from Jamshedpur and cost per passenger ticket is Rs.2600.
Seventy percent of the seats are reserved under the Ude Desh Ka Aam Nagarik (Udan) Scheme. It will take one hour and twenty minutes from Jamshedpur to reach Bhubaneswar.
The air fare rates of this route are yet to be announced.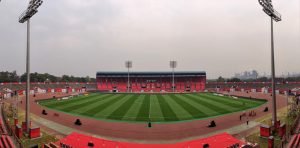 Sonari Airport (IATA: IXW, ICAO: VEJS), also known as Jamshedpur Airport, is a private airport in Jamshedpur, Jharkhand, India, owned by Tata Steel. It is located 4.4 km (2.7 mi) from the city centre. Its runway is in length of 1,222 metres (4,009 ft) and is spread over an area of 25 acres (100,000 m2). It is the main airport serving the city of Jamshedpur and adjoining regions. It was built in 1940 and is managed by Tata Group.
About IndiaOne Air
IndiaOne Air is a regional airline based in Ahmedabad, India. The airline is the first scheduled airline in India to operate a Single-engine aircraft. Proving flight was performed on 22 June 2022 and the AOC was granted to the airline on 24 June 2022.

IndiaOne Air aims to connect tier 2 & 3 cities with metropolitan cities and will provide safe, efficient, cost effective and on-time services. Starting from Eastern India, we endeavour to provide both inter-state and intra-state scheduled flights with the vision of connecting unserved and underserved cities; which otherwise are difficult and time consuming to travel to by road and train. IndiaOne Air also focuses on promoting local tourism, supporting business and for enhancing connectivity for the common people.