BY TTT NEWS SERVICE
DURGAPUR, 6 NOVEMBER 2022
Karkinos Healthcare Pvt. Ltd, a technology-driven end-to-end cancer care platform  joined hands with IQ City Medical College Hospital to strengthen cancer care in the region.The partnership shall  work towards providing a technology enabled protocol driven, affordable and managed quality cancer care  under the banner of IQ City Medical College Hospital – Karkinos Cancer Care Centre.

The Centre was launched today by Mr. Sanjay Jhunjhunwala (President, IQ City Foundation and CEO, Mani  Group), Shri Sudheer Kumar Neelakantam (Commissioner of Police ADPC), Dr. Sourav Chaerjee (Sub Divisional Magistrate, Durgapur), Mrs. Anindita Mukherjee (Chairperson, Board of Administrators, DMC) and  Dr. Akhter Jawade (Director, Karkinos East) in the presence of Mr. Francis Antony (Director, IQ City  Foundation), Ms. Sudarshana Gangulee (Director, Mani Group), Ms. Suparna Sengupta (CEO, IQ City Medical  College Hospital), Brig. (Retd.) Dr. Gautam Ghose (Principal, IQ City Medical College), Surg. Commodore (Retd.)  Dr. G. D. Mai (Medical Superintendent, IQ City Medical College Hospital).
Speaking about the association, Dr. Akhter Jawade said, "Awareness and early detection of cancer are very  important in the control of this dreaded disease, as the disease is difficult to control in the later stage. The  partnership's uniqueness stems from its focus on reducing the cancer burden by driving community oncology  programmes for early detection and diagnosis of cancer cases, as well as providing a strong referral pathway for  continued care."
The services include high-end radiotherapy, sub-speciality based onco-surgery, planned & protocol-driven  chemotherapy, well managed diagnosis, treatment & prevention of blood cancers, novel & organ-specific immune & targeted therapies and peer-reviewed, population-level risk assessment & screening of the common  forms. Furthermore, the hospital is equipped with a critical care unit, an operation theatre and IPD services.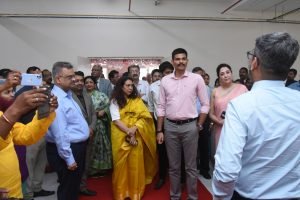 Speaking about the association, the  President of IQ City Foundation, Mr. Sanjay Jhunjhunwala said,  "IQ City Medical College Hospital is a multispeciality hospital that is committed to delivering holistic care to all  sections of the society. The partnership with Karkinos will further strengthen our commitment to providing  patient-centred care for cancer now by ensuring coordinated care support through recommendations from the  mul-disciplinary tumor board and protocol-driven treatment. IQ City Medical College Hospital – Karkinos Cancer Care Centre will continue to provide a comfortable stay and quality care to all the parents at the state-of-the-art hospital."
About IQ City Medical College Hospital  :
IQ City Medical College Hospital offers state-of-the-art health care to the community. The vision is that no person  should be denied treatment because of lack of resources. IQ City has also been constantly seng new standards  of service and treatment delivery. Located in Durgapur and equipped with sophisticated technology and a comfortable ambience, IQ City adopts a patient-oriented focus and a philosophy of providing personalized care  at affordable prices to one and all.
(To know more, visit www.iqcity.in/hospital)
About Karkinos Healthcare Pvt Ltd:
Karkinos Healthcare is a technology-driven oncology-focused managed health care platform for early detection  and diagnosis of common cancers. The company espouses the use of a distributed cancer care network working  with multiple healthcare institutions and professionals in the ecosystem with a view to get cancer care closer to  the persons' home by decoupling the delivery from the knowledge systems of care.
(To know more, visit www.karkinos.in)