BY TTT NEWS NETWORK
NEW DELHI, 14 JANUARY 2023
Union Minister of Civil Aviation ,Mr. Jyotiraditya M Scindia inaugurated the first flight services of Indigo from Kolhapur to Bengaluru  at Chhatrapati Rajaram Maharaja Airport in Kolhapur on Friday.  Minister of state for civil aviation, Gen. V.K.Singh also flagged  off the new flight.
IndiGo, the most preferred domestic air carrier of the country  becomes the first airline to operate daily  flights  between the two cities thereby  enhancing regional connectivity.
At present  by road it takes about seven  to eight hours journey time  between the two cities, which will be reduced to only one hour and forty five minutes  through this  direct flight connection.
Commenting on the new flight , Mr. Vinay Malhotra, Head of Global Sales, IndiGo said, "We are pleased to commence operations between Bengaluru and Kolhapur. This new daily direct flight will reduce travel time significantly, while providing national and international connectivity to Kolhapur through its direct connection to Bengaluru. The increased accessibility to Kolhapur, well-known for its handcrafted goods and as an advanced agricultural centre in the state, will promote commerce and tourism, boosting economic growth in the city. We will continue to enhance regional connectivity and uphold our promise of providing a courteous, on-time, hassle-free, and affordable travel experience."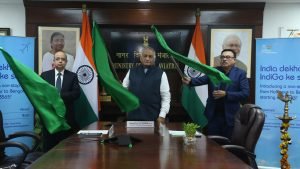 The enhanced connectivity to Kolhapur will make it accessible for pilgrims to visit religious destinations such as Mahalaxmi Temple, Kopeshwar Temple, Shree Jyotiba Devasthan, Rankala Lake, Chhatrapati Shahu Museum, Maharaja's Palace, Binkhambi, and Ganesh Temple.
Moreover, strengthening access to India's high-tech industry, Bengaluru, would provide tourists with increased access to destinations like Cubbon Park, Nandi Hills, Tipu Sultan's Summer Palace, Lal Bagh Botanical Gardens, Bengaluru Palace, Ulsoor Lake, and ISKCON Temple.
The commencement of operations from  Kolhapur and Bengaluru  will also make travel affordable through direct connections and additional capacity.
These flights are designed to cater to both the  business and leisure travellers who are constantly on the lookout for new and affordable flying options to access destinations which help in building businesses and are known for their tourist attractions and will provide a big boost in tourism in both the cities.