BY TTT NEWS NETWORK
KOZHIKODE, 9 DECEMBER 2022
Increasing the prospects of adventure tourism in the state, Kerala's first government-sponsored surfing school has opened at Gotheeswaram beach in Beypore in Kozhikode district very recently.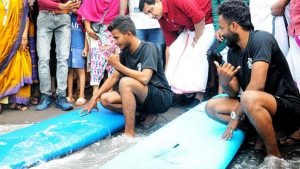 Ten internationally certified trainers will cater to the needs of the tourists and surfers at Beypore Surfing Club named 'Aventura'.
Tourism Minister Mr P. A. Mohamed Riyas urged local entrepreneurs to cater to the needs related to the surfing school, such as food and accommodation for the surfers. Starting homestays and eateries will help the residents earn a livelihood from the school, he said.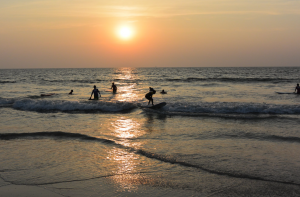 The latest avatar at the famous  Gotheeswaram Beach "has all the potential to earn global attention thus  thus boosting the tourism prospects of this Malabar town and the the beach can soon become a sought-after destination and give fillip to the living standards of local communities known for their harmony and people-friendly nature," said Mr. P.A Mohamed Riyas.
'Aventura' surfing school is managed by the Youth Welfare Multipurpose Society, a Responsible Tourism Club, with the help of the Department of Tourism, Responsible Tourism Mission, Kozhikode District Tourism Promotion Council and Kerala Adventure Tourism Society.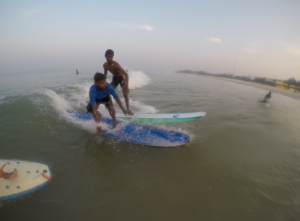 Kerala Adventure Tourism CEO Binu Kuriakose was also present.
Kovalam beach in Kerala has surfing schools already. Kerala government hopes that this adventure water sports will boost tourism to both domestic and foreign travellers.