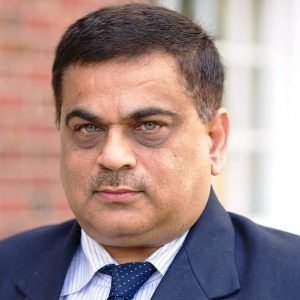 BY DR. RAVINDER PALL SAINI
INDIAN FOREST SERVICE (RETIRED)
MEMBER, BOARD OF  MANAGEMENT
FOREST RESEARCH UNIVERSITY
DEHRADUN
DEHRADUN, 15 MARCH 2023:
India wins its first Oscar in a film  in  2023 as Kartiki Gonsalves and Guneet Monga's 'The Elephant Whisperer' bags an award for Best Documentary Short Film at the 95th Academy Awards. The award to me seems like a resounding victory for ethos of Indian Tribal culture to conserve country's biodiversity and wildlife so very well.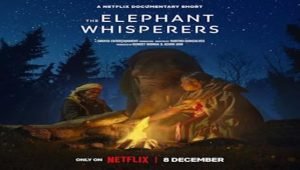 Already, Raghu, the orphaned elephant at Theppakadu Elephant Camp , the star cast in the film is the cynosure of all eyes of the cine buffs and enthusiastic tourists as they have been thronging the camp  since yesterday.
For the last two decades, the forest officials, wildlife and nature lovers and the government have been working  hard to stop  the growing man – pachyderm conflict resulting  due to its  ever shrinking habitat and poaching of tuskers  for ivory.
( RAGHU)
MESSAGE THE FILM IMPARTS:
Bomman and Bellie, a couple in South India, devote their lives to caring for an orphaned baby elephant named Raghu, forging a family like no other that tests the barrier between the human and the animal world.
The indigenous people have assisted in conservation of biodiversity. The indigenous tribes live close in the vicinity of forests and have managed and conserved the biodiversity of their localities for a long time. These tribals take shelter from forest and since ages have developed a kind of affinity with forest and wildlife conservation so successfully. They take from forests their needs quite amicably and in return show devotion towards its conservation and development.
"We admire elephants in part because they demonstrate what we consider the finest human traits: empathy, self-awareness, and social intelligence. But the way we treat them puts on display the very worst of human behaviour." – Graydon Carter
ELEPHANT IS INDIA'S HERITAGE:
India's culture and tradition places Elephant as a very special and revered animal. They were used as a means of transport for the royalties and to fight battles, as has been captured by various paintings. Most important, however, is the status of the elephant as a deity in the form of Lord Ganesha.
Indian elephant is the national heritage animal of India since 22 October 2010. India's Environment Ministry has declared the elephant a National Heritage Animal to increase protective measures for the country's nearly 29,000 elephants. Furthermore, the Government plans to spread awareness toward the conservation of the species. Notedly, Indian Elephant (Elephas maximus) is accorded the highest degree of protection under Indian Wildlife Protection Act (1972).
The elephant is our National Heritage Animal has always been knocked down by the pace of our infrastructural development. Its habitat gets declined constantly as forests are to be removed to pave way for Dams, Canals, National Highways, Airports and Rail network. The greatness of this intelligent beast is that it always adapts and adjusts for its survival. But do we all care for it? The elephant Whisperers highlight the sense of inherited culture of our great tribals in conserving wildlife. Here the producer, through a tribal couple, sends a loud and clear message that it is possible that care can be taken by us to conserve this magnificent wild animal if we all derive and possess the compassion as reflected in the film. The elephant is our proud heritage and has been proclaimed by the government as "National Heritage Animal". Let us all derive inspiration from the film's message and contribute to the cause of elephant conservation.
The Asian Elephant has been given the highest level of protection in India by its inclusion in Schedule 1 of the Indian Wildlife (Protection) Act 1972. They are also included in Appendix I of the Convention on International Trade in Endangered Species of Wild Fauna and Flora.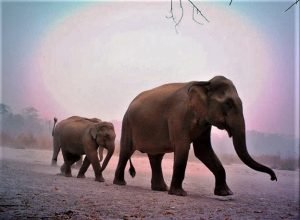 I ALWAYS ADJUST WHY CAN'T YOU ALL ADJUST TO SAVE ME FOR YOUR FUTURE
Since 1986, the Asian elephant has been listed as Endangered on the IUCN Red List, as the population has declined by at least 50 percent over the last three elephant generations, which is about 60–75 years. It is primarily threatened by loss of habitat, habitat degradation, fragmentation and poaching.
Indian elephant populations are most at risk from habitat loss and resulting human-elephant conflict.
ECOLOGICAL IMPORTANCE OF ELEPHANTS:
As the largest of all land mammals, elephants play a significant role in stabilising natural ecosystems. They trample forests and dense grasslands, making room for smaller species to coexist. Elephants also create water holes used by other wildlife as they dig dry riverbeds when rainfall is low. Their faecal matter enriches the soil and provides micro habitat for so many insect species.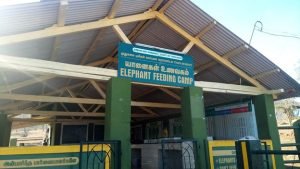 INDIAN CONSERVATION EFFORT – PROJECT ELEPHANT:
Project Elephant was initiated in 1992 by the Government of India Ministry of Environment and Forests to provide financial and technical support to wildlife management efforts by states for their free-ranging populations of wild Asian Elephants. The project aims to safeguard the long-term existence of the population of elephants in their natural habitats by protecting them, their habitats and safeguarding their migration corridors.
Objectives Of Project Elephant launched by the Government of India in the year 1992 as a Centrally Sponsored Scheme:
1.To safeguard elephants wellbeing, protecting and developing their habitat, ensuring implementation of anti poaching efforts, developing and corridors.
2.To address issues of man-animal conflict by awareness and participatory approach.
Facilitate welfare of captive elephants.
4.To promote elephant conservation efforts all over the country.
IMPORTANT FACTS ABOUT ELEPHANTS IN GENERAL:
WORLD'S LARGEST LAND MAMMAL:
The African Savanna (Bush) elephant is the world's largest land animal – with adult males, or bull elephants, standing up to 3m high and weighing up to 6,000kg on average. Males only reach their full size at 35-40 years – that's well over half their lifespan as wild elephants can live for up to 60-70 years. And it's not just the adults – even calves are huge. At birth, a baby elephant can weigh 120kg – that's almost 19 stone.
THE THREE SPECIES:
There are three species of elephant: African Savanna (Bush), African Forest and Asian. The ears of African elephants are much larger than their cousins and are described as being shaped like the African continent, whereas the ears of Asian elephants are shaped like the Indian subcontinent. There's also a trunk difference — African elephants have two 'fingers' at the tip of their trunks, whereas Asian elephants have one.
SKILLFUL TRUNKS:
Elephants have around 150,000 muscle units in their trunk. Their trunks are perhaps the most sensitive organ found in any mammal. Elephants use their trunks to suck up water to drink – it can contain up to 8 litres of water. They also use their trunks as a snorkel when swimming.
FABULOUS TUSKS:
Elephant tusks are enlarged incisor teeth which first appear when elephants are around 2 years old. Tusks continue growing throughout their lives. Tusks are used to help with feeding – prising bark off trees or digging up roots – or as a defence when fighting. But these beautiful tusks often cause elephants danger. They're made from ivory, a much-desired object.
STURDY SKIN:
An elephant's skin is 2.5cm thick in most places.  The folds and wrinkles in their skin can retain up to 10 times more water than flat skin does, which helps to cool them down. They keep their skin clean and protect themselves from sunburn by taking regular dust and mud baths.
VORACIOUS FEEDERS:
Elephants eat grasses, leaves, shrubs, fruits, and roots varying on the season and their habitat. When it's particularly dry, elephants will eat more woody parts of trees and shrubs like twigs, branches, and barks. They need to eat up to 150kg of food per day – that's around 375 tins of baked beans – although half of this may leave the body undigested.  Elephants eat so much that they can spend up to three-quarters of their day just eating.
EXCELLENT COMMUNICATORS:
Elephants communicate in a variety of ways – including sounds like trumpet calls (some sounds are too low for people to hear), body language, touch, and scent. They can also communicate through seismic signals – sounds that create vibrations in the ground – which they may detect through their bones.
TOUGH BABIES:
Amazingly, elephant calves can stand within 20 minutes of being born and can walk within 1 hour. After two days, they can keep up with the herd. This incredible survival technique means that herds of elephants can keep migrating to find food and water to thrive.
ELEPHANT MEMORY:
The elephant's temporal lobe (the area of the brain associated with memory) is larger and denser than that of people – hence the saying 'elephants never forget'.
POACHING DEPLETED THEIR POPULATION:
Around 90% of African elephants have been wiped out in the past century – largely due to the ivory trade – leaving an estimated 415,000 wild elephants alive today. Asian elephants are also under threat, having declined by at least 50% in the last three generations. There are only around 48,000–52,000 individuals left in the wild. As their habitat changes, fragments and is lost to human settlements and agriculture, populations of Asian elephants are finding it harder to follow their traditional migration routes to reach water, feeding and breeding grounds, and they're coming into often dangerous contact with people.
In the end I reiterate that the acclaimed Oscar award seems like a resounding victory for the ethos of Indian Tribal culture to conserve the country's biodiversity and wildlife so very well. Let us all earnestly endeavour to carry it forward and give due respect to our National Heritage Animal and our great Tribal culture and brethren who constantly participate in conservation of this glory.
"There is no creature among all the Beasts of the world which hath so great and ample demonstration of the power and wisdom of almighty God as the Elephant."
– Edward Topsell