BY DEBAJYOTI CHAKRABORTY
DUBAI (UAE) , 7 NOVEMBER 2022
Ripley would have said believe it or not. It's virtually a rangoli of flowers that too in a desert land. Located in Dubailand near the Arabian Ranches , Miracle Garden started its journey on Valentines Day 2013.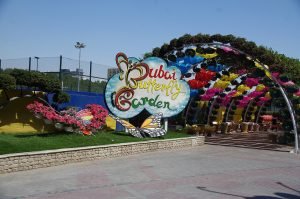 The city of gold is full to the brim with exciting landmarks and attractions. One such attraction that stands tall in Dubai's attractive tourist landscape is the Dubai Miracle Garden.
Spread over an area of 7,80,000 square feet it is host to about 250 million plants and 50 million flowers. It has added another feather in its cap in 2015  by opening the Dubai Butterfly Garden, the world's largest and the region's first indoor butterfly garden and a sanctuary for over 15,000 butterflies from 50 different species.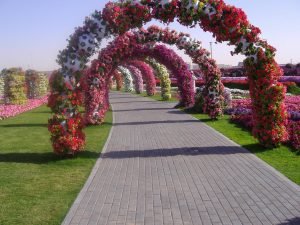 It includes a butterfly museum, ten climate-controlled domes at temperature of 24 °C, a Koi fish pond in Dome 2, and an educational area. The garden covers an area of 2,600 square metres. It is located immediately adjacent to the northeast of the Dubai Miracle Garden, with a separate entrance.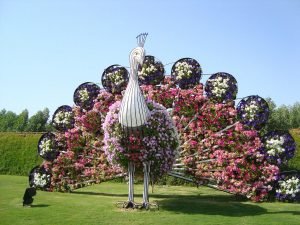 As part of a licensing deal between the Dubai Miracle Garden and The Walt Disney Company, a topiary of Mickey Mouse was unveiled in February 2018. Flower structures of Minnie Mouse, Goofy, Pluto, Daisy Duck, Donald Duck, and Huey, Dewey, and Louie were installed .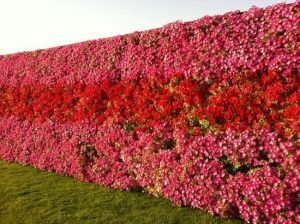 The Dubai Miracle Garden has achieved three Guinness World Records so far. In 2013, it was declared as the world's largest vertical garden. Currently an Airbus A380 flower structure in the garden is listed by Guinness World Records as the biggest flower structure in the world. The 18 metres (59 ft) topiary of Mickey Mouse, which weighs almost 35 tonnes, is the tallest topiary supported sculpture in the world.
FLORAL DESIGNS :
"The colors, designs and structure of our 3D floral characters are a testament to our team's craft for the visitors of the region's most popular flower garden. We reinvigorated the concept by beautifully merging these characters with vibrant flowers and giving them a remarkable look, as well as unique designs. From giant floral mushrooms and humanoid ants with flowery thoraxes to rose-laden swans and flower-powered cars, our team's imagination knows no bounds, and these attractions have proven a long-time favourite at Dubai Miracle Garden," claims the Dubai Miracle Garden officially.
Maintenance :
The flowers are maintained by re-use of treated wastewater through a drip irrigation method with an average amount of 757,082 litres (166,535 imperial gallons; 200,000 US gallons) of water per day. According to the officials of Dubai Miracle Garden, the Dubai Municipality retreats the grey water of the city and sends it directly to the garden. The garden again re-filters the water and converts it to high-quality water for its usage in the garden. The garden is only watered after it closes at night.
Miracle Garden is one of a kind in the region and in the world for such a unique display and extravagant outdoor recreational destination. Miracle Garden is also  providing state-of-the-art services and facilities including open parking, VIP parking, sitting areas, prayer room, toilet blocks, ablution facility, security room, first aid room, carts for handicapped visitors, retails and commercial kiosk and all other related services available to facilitate visitors.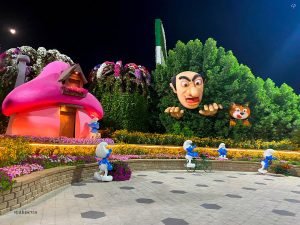 Some of the most common flowers that bloom are marigolds, petunias, and geraniums. This exhibition includes a replica of the stunning Burj Khalifa as well as arcs, tombs, huts, and houses decorated with vibrant flowers.
The visitors are  welcomed by quirky layouts and heart-shaped passageways. There are many attractions here, including Disney Avenue, Emirates A380, Lost Paradise, Cabanas, Floral Clock, Gazebos, 3D floral designs, and lake parks.
There are souvenir shops, photo booths, and Disney Merchandise. There are several restaurants, eateries and cafeterias serving tea and coffee.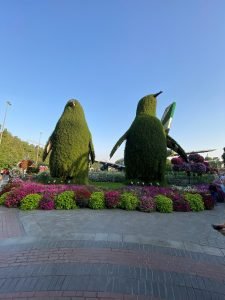 The Miracle Garden opens in November and the tour time takes approximately two to three hours.


The tourists can reach the Miracle Garden by various modes of transportations  from Dubai Airport. Tickets are not required for kids aged less than two years.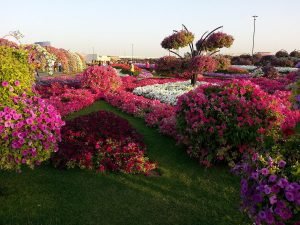 Like the  Hanging Gardens in the ancient city of  Babylon, near present day Hillah  in Iraq  which is  one of the Seven Wonders of the Ancient World listed by Hellenic culture, the modern day Miracle Garden of Dubai is also an architectural wonder.