BY TTT NEWS NETWORK
DURGAPUR, 25 FEBRUARY 2023:
Mr Debabrata Bhattacharya, DIG CRPF Amarawati Durgapur and Mr Ram Nivas Sekhu, Commandant, CRPF Durgapur, formally inaugurated the newly established clinic, in the presence of Mr Pankaj Kumar Sarkar, Chairman of Saraswati Devi International School, Dr Venugopal Goka, Senior neuro surgeon, Dr Visweswaran Balasubramanyam, Senior Intervension Pulmonologist and Mr Soma Sekhar Bbau, GM of Yashoda Hospitals. Yashoda Hospitals launched the clinic in association with Shoppers Drug Mart, SDM Diagnostics prominent Diagnostic Care Centre in Sagarbhanga Durgapur, to celebrate their anniversary presence in this region.
The newly established clinic will focus on a range of super-specialities including gastro, neurology, orthopaedics, urology, oncology, nephrology, pulmonology and cardiology. Apart from these services, the clinic will guide in terms of telemedicine services for all super-specialities. The service includes second opinions, treatment estimates, pre-bookings and end-to-end assistance for patients who are planning to seek treatment at Yashoda Hospitals Hyderabad. This clinic will provide the latest and most comprehensive medical suggestions.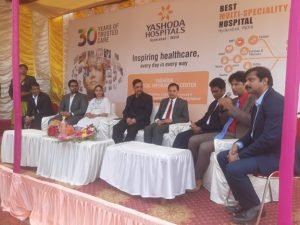 Miss. Saraswati Rajak topper in AIIMS Entrance Exam from Durgapur has been felicitated by Yashoda Group of Hospitals, Hyderabad. A donation of Rs.10,000 has been handed over to her by Dr Venugopal Goka. Medical education can be daunting for students from economically backward backgrounds, aspirant  students needs  support to cope with the such barriers and move forward with their regular coursework. The global pandemic has shown us just how much we rely on our doctors and it is our duty as a society to ensure that the sharpest minds are allocated the tools necessary for their success.
Mr Soma Sekhar Bbau, GM of Yashoda Hospitals Somajiguda said, "The launch is yet another step by Yashoda Hospitals to expand its presence in tier 2 cities across the country to fill the void of quality of medical care. With this new facility in Durgapur, we hope to make quality healthcare more accessible in this part of the country. We are striving to fill this gap by focusing on expanding our presence in tier-II cities of the country so that people can avail themselves of the best treatment near their homes.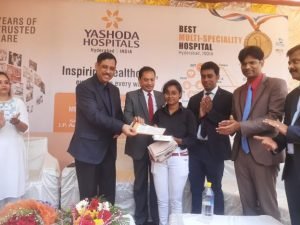 Currently, Yashoda Hospitals has over 40 super-speciality clinics across West Bengal and North-East, including at Kolkata, Siliguri, Cooch Behar, Birbhum, Asansol , Agartala and Guwahati. We intended to open 50 OPD clinics by 2023 to cater to more number of patients."