BY TTT NEWS NETWORK
KOLKATA, 15 MARCH 2023:
The deputy high comissioner of Bangladesh, Andalib Elias and Divisional Railway Manager (DRM) of Sealdah,  and Deepak Nigam has jointly inaugurated the Bangladesh Visa Info Centre at Kolkata ( Chitpur) Station.
Kolkata Railway Station is the terminal point of two Bangladesh bound trains- Bandhan Express, which runs to Khulna and Maitree Express which runs to capital Dhaka.
A FOREX centre will also be opened at Kolkata Station soon for the tourists.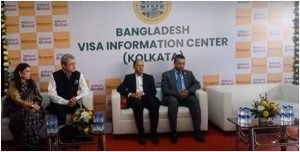 About 800 Visas are issued to people going to Bangladesh daily from Kolkata. 1.3 lakhs Visas are issued annually, informed Mr. Andalib Elias.
DUDigital Global has already announced  the opening of a new Bangladesh Visa Information Centre at Kolkata Railway station in (Chitpur) Kolkata, India. The purpose of this centre is to facilitate and empower with the process to the visa Applicants of Indian citizens who wish to visit Bangladesh for business, tourism, or other purposes. The Bangladesh Visa Information Centre in Kolkata will be operated by DUDigital, a leading visa processing company, which already operates Bangladesh Visa Application centres in Kolkata and Siliguri. Existing Centres are located at 1st Floor, Plot No. 15 (Infinium Digispace) CP Block, Sector 5, Salt Lake in Kolkata and Shop No. 30 & 31,2nd Floor International Market, Sevok Road Near Pani Tanki More in Siliguri.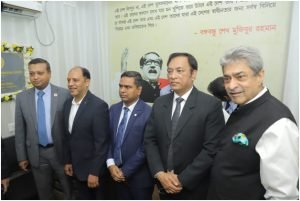 Sources said that from 1 April, the Railway Protection Force (RPF) will escort these two international Bangladesh bound trains instead of the Border Security Forces (BSF).