BY TTT NEWS NETWORK
KOTTAYAM ( KERALA), 2 MARCH 2023:
As many as 42 speakers at the first-ever Global Responsible Tourism Summit visited Kerala Tourism's pioneering STREET project in scenic Maravanthuruthu of this district, bringing curtains down on the four-day conclave that vowed for implementation of proposals to boost the state's vital travel and tourism industry.
Comprising foreign and Indian delegates, the team received a warm welcome to the accompaniment of ethnic chendamelam ensemble at the experiential tourism site with its sprawling backwaters in the village of Maravanthuruthu, 25 km north of Kumarakom, which held the February 25-28 event.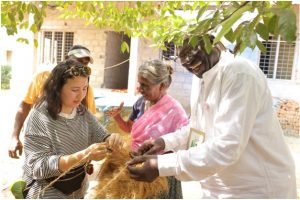 Kerala Responsible Tourism Mission Coordinator Shri K. Rupeshkumar welcomed the guests in the presence of Grama Panchayat President Smt K.B. Rama and Vice-President Shri V.T. Prathapan. The visitors interacted with the local communities, after which cultural programmes were presented in the spirit of the government's imaginative project named STREET (Sustainable, Tangible, Responsible, Experiential, Ethnic Tourism). Maravanthuruthu is the first STREET hub, inaugurated 10 months ago.
The visiting team on Tuesday comprised Dr Harold Goodwin (UK), Glynn O'Leary (South Africa), Christopher Warren (Australia), Charmarie Maelge (Sri Lanka), Shubham Agnihotri (Taiwan) and Sarah Hansburg (Austria) among the 12 delegates from abroad. Within India, the guest included Tourism Department officials and tour operators totalling 30 from 14 states as far as Himachal Pradesh in the north, Meghalaya and Arunachal Pradesh from the Northeast, Chhattisgarh and Madhya Pradesh from Central India, Gujarat and Maharashtra from the west and West Bengal and Orissa from the east.
From Maravanthuruthu, the team was escorted five km southward to Kulasekharamangalam village in the afternoon. Accorded a welcome amid the traditional panchavadyam percussion concert, the visitors spoke to the RT Club members.
The team members enjoyed their engagements with kayaking and riding on variety boats such as shikara and kutta. The folksy Garudan Parava dance added colour and vibrancy. The delegates watched and participated in art-and-craft activities such as braiding coconut palm-leaves, weaving mat and twining coir.