BY TTT NEWS NETWORK
DURGAPUR, 24 DECEMBER 2022
The arrival of the month of December reminds us of one great occasion, Christmas. The celebration at the end of the year gives a good farewell to the passing year and spread the message of kindness and love.
There is nothing as good as the spirit of giving and caring for others. To spread the true Christmas spirit, the toddlers of Pre-Primary section of DELHI PUBLIC SCHOOL (DPS)  DURGAPUR, under the guidance and support of the department's coordinator, Ms. TINA DAS , exhibited a beautiful show with great zeal and fervour through Christmas carols, dances and a skit. Through her speech she gave a message that the celebration and joy become more meaningful through sharing.
To inculcate the values of being compassionate and responsible towards the society Delhi Public School, Durgapur organizes such kind of programmes for children. It was an open-air celebration in the evening as the school wore a festive look with Christmas trees, Santa's, bells, streamers, reindeers and so on. The programme started with the Welcome song by the choir group of Class-1, followed by the dance of cute little angels of Nursery, carols sung by the children of classes UKG and 1. The kids danced to the joyful tunes of Light of Christmas, This little light of mine. The LKG kids rendered thankfulness to the Lord through their beautiful dance 'I want to be thankful.' The kids rocked the stage with Chair dance, Jingle Bell Rocks and a dance by super cute Santa's brought cheer to the show and made everyone tap their feet!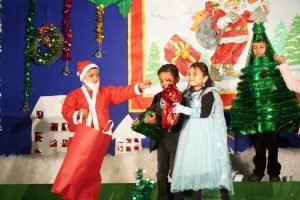 This string of events was wreathed through a heart touching skit 'Joy of Giving', enacted by the students of Classes UKG and 1which depicted that giving and sharing makes a celebration more fulfilling.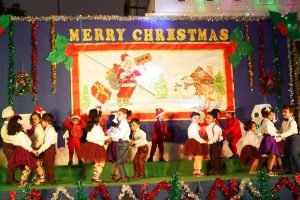 Around two hundred and eighty-one participants took part in this gala event.  The children dressed as Santa's, distributed chocolates. The vibrant and colourful costumes, super excited kids enthralled the audience thus ending the carnival with a positive note for a fresh new start. The programme ended with a vote of thanks by one of the pre-primary teacher Mrs. Moitrayee Banik.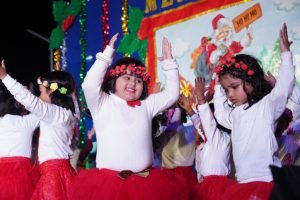 The audience outpoured their love and adoration for the little munchkins……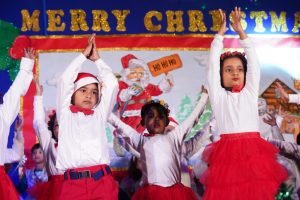 "The Christmas program was well organized by the school. All the kids performed amazingly. And the best part was that each and every child was given a chance to participate. I am happy that my ward is a part of DPS Durgapur." said   Barkha Bhalotia (parent of UKG).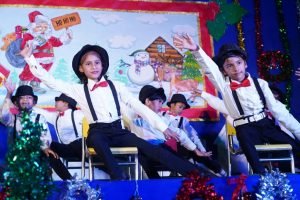 I would like to congratulate the teachers for the grand success of the Christmas Carnival 2022. The children outperformed themselves and left us spellbound with their electrifying and energetic dance performances," said Smt. Ananya Kundu (parent of class 1).